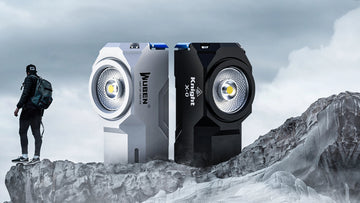 Welcome to the world of Wuben, where illumination meets innovation!
As a seasoned expert in the field of flashlight technology, We are excited to introduce you to some exceptional tools that will brighten up your everyday life. Whether you're a newcomer or just looking to upgrade your flashlight game, this guide will walk you through a range of options tailored to your needs. Let's explore the illuminating possibilities together.
1. G3 and E19 - Your Affordable EDC Essentials (Super Low Prices)
Why start your journey with the G3 and E19?
These two EDC tools are no-brainers, effortlessly earning a spot in your shopping cart. The G3 is the EDC multi keychain tool, featuring a mini ballpoint pen on top and a package opener at the bottom. Grab one for just $4.99 or a pair for $7.99. Meanwhile, the E19 boasts a High CRI LED Penlight Flashlight, packed with functionality that speaks for itself. And guess what? It's yours for only $9.9.
G3 Limited-Time Offers
Product
Wuben G3 EDC Multi Keychain Tool
Discounted Price

$4.99

(Original Price: 

$22.00, Up to 77%)
Time (EST)
From 8:00 AM on August 10th to 8:00 AM on September 8th
Available in

Users from the United States, Australia, Germany, and France

Quantity
Limited 1 Pc Per Person
A Better EDC Multi Keychain Tool for Unboxing and Writing


E19 Limited-Time Offer
Product
Original Price
Discounted Price
Wuben E19 High CRI Penlight
$26.99
$9.9
Quantity
Time
Limitations
100 pieces
July 19th - August 31th (EDT)
a: One piece per person;
b: For US users only 
2. Wuben A1 - The Best Easy Carry Portable High-power Spotlight (Snag a 20% Discount: W20OFF, and Get a Free Gift: X0 Await You!)
The
Wuben A1
is your go-to choice for scenarios like
Search and Rescue, Marine Operations, Cave Exploration, Mountain and Forest Construction, and Off-Road Modification
. Check out its outstanding features:
Blazing Brightness: Shining with a maximum output of 20,000 lumens.
Illuminating Range: Reach distances of up to 2500 meters.
Built Tough: Crafted for durability and reliability.
Extended Runtime: Enjoy up to 105 hours of continuous use.
3. C3 and L50 - Your Entry-Level Flashlights (Including a Free Gift AS5 Flashlight Nylon Pouch)
The C3 and L50 are both beloved members of the Wuben family
, offering similar performance at an impressive 1200 lumens. The L50 features a precision-engineered reflector, while the C3 sports a lens. Visually, the L50 is slightly larger and around ten grams heavier than the C3.
4. Wuben X Series - Redefining Your Perception of Flashlights (15% Discount: WB15)
Prepare to challenge your understanding of flashlights with the remarkable Wuben X Series
. Known for its unique design and playful nature, the X Series is the pinnacle of Wuben's flashlight lineup.
X0 VS X1 VS X2
| | | | |
| --- | --- | --- | --- |
| Brands / Models | Wuben X0 | Wuben X1 | Wuben X2 |
| Portability | Wuben X0, boasts a weight range of 82g to 131g and dimensions of 2.24 x 0.96 x 1.10 inches. | Wuben X1 possesses a weight of 379g and its dimensions are 5.06 x 2.2 x 1.1 inches. | Wuben X2 possesses a weight of 115g and its dimensions are 3.35 x 1.54 x 0.79 inches. |
| Brightness and Adjustable Output | Up to 1,100 lumens; 7 brightness levels | Up to 1,2000 lumens; 7 brightness levels | Up to 2,500 lumens; 6 brightness levels |
| Long Battery Life | Up to 40 hours on low setting; 2.5 hours on high setting | Up to 14 hours on low setting; 2 hours on high setting | Up to 80 hours on low setting; 2.5 hours on high setting |
| Material | Made of Aluminum, Titanium, or Brass | Made of Aluminum | Made of Aluminum, Titanium, or Copper |
| Water Resistance | IP68 | IP55 | IP68 |
5. New Arrivals - Wuben X3 and L1 (15% Discount: WB15)
Experience the cutting-edge with the Wuben X3, the fourth installment of the X Series
. Resembling an owl, this flashlight is as stylish as it is functional. On the other hand,
the L1 offers Dual Light Sources, allowing you to simultaneously illuminate different directions
. Its rotating and switching capabilities make it a versatile choice for close-up and long-range lighting needs.
Wuben X3 Best EDC Flashlight Specifications
| Specs | Wuben X3 Best EDC Light |
| --- | --- |
| LED | 1 x LUMINUS SST10 and 1 x Samsung LH351D) |
| Lumens | 700 Lumens |
| Beam intensity | 2,590 cd |
| Battery config. | 1000mAh battery pack and 3000 mAh charging box |
| Onboard charging | Wireless Charging |
| Modes | 4 |
| Blinkies | Strobe / SOS |
| Waterproof | IP65 |
| Weight | 70g |
| Size | 70 x 35 x 21 mm |
| Review publication date | May 2023 |
| Tips: | Expected Delivery By Lated August. |
L1 Dual Light Sources Flashlight
All the information you want to know about the Wuben L1 is in this article: "
Comparison of Differences Between Different Versions of Wuben L1
."
That's all, your journey into the world of flashlights starts here
. Whether you're in search of budget-friendly options, powerful spotlights, entry-level essentials, or innovative designs, Wuben has you covered. Embrace the light and embark on your flashlight adventure today!