Wuben Flashlight News
Wuben Engineers Group: Sparking Collaboration Among Flashlight Enthusiasts
Jun 02, 2023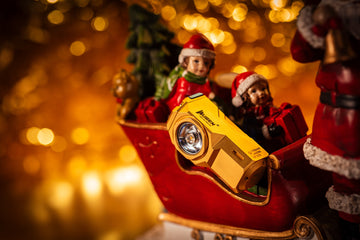 Are you ready to join a community that sparks innovation, fosters collaboration, and shares an unwavering passion for flashlights?
Welcome to Wuben Engineers
(
As of June 2, 2023, the Wuben Engineers Facebook group has proudly cultivated an impressive community of 557 dedicated flashlight enthusiasts and experts

.
), the exclusive Facebook group created for devoted fans of Wuben flashlights. This vibrant community is a gathering place for knowledgeable experts and passionate enthusiasts who possess a deep understanding of flashlights and their intricacies.
We sincerely invite you to join our Wuben Engineers FB group and become a premium customer.
This group is specifically designed for those who have purchased the Wuben X Series
(
X0
,
X1
,
X2
), ensuring a community of dedicated users who can provide valuable insights and feedback. As a member, you'll gain access to a host of
exclusive benefits
:
Early Access to New Products
: Be among the first to experience our latest flashlight releases, trying them out before they hit the market. Get a firsthand look at the cutting-edge features and advancements of Wuben flashlights.
Monthly Laser X0 Giveaways
: As a valued member of Wuben Engineers, you'll have a chance to win the highly coveted laser version X0 flashlight every month. Experience the power and innovation of this remarkable flashlight in the palm of your hand.
Co-development Opportunities
: Your expertise and opinions matter to us. As a member of Wuben Engineers, you'll have the unique opportunity to actively participate in the co-development of new products. Share your insights and suggestions, and contribute to shaping the future of Wuben flashlights.
Beyond the immediate benefits,
the Wuben Engineers offers a space for camaraderie and meaningful connections
. Connect with fellow flashlight enthusiasts, forge lasting friendships, and harness the collective knowledge of our vibrant community. Share your experiences, seek advice, and witness the collaborative spirit as members support and inspire one another. Together, we can push the boundaries of flashlight technology and explore new horizons.
Click the image to join the Wuben Engineers Group instantly
Join Wuben Engineers FB group
here
and become part of a vibrant community that shares your passion for flashlights. As a loyal Wuben customer and enthusiast, you have the unique opportunity to be at the forefront of new product releases, win exclusive prizes, and actively shape the future of Wuben flashlights. Together, let's illuminate the path and take our flashlight experience to new heights.