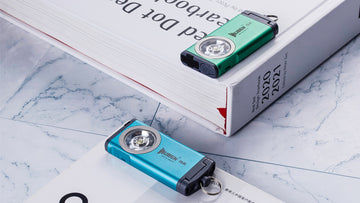 Ever been in the dark and thought, 'I need a small light to show me the way'? Well, get ready to meet the 'bad boy' in the flashlight world – the Wuben G2 Mini Keychain Flashlight. This little guy is about to bring some serious shine to your life!

You know how it is, right? Sometimes you need a sidekick that's small enough to fit in your pocket but packs a punch like a true bad boy. Enter the Wuben G2 – the small EDC keychain flashlight that's not here to play games. From August 30th to September 30th, all you US users are in for a treat, 'cause we've got an offer that'll make you say, "Give me that bad boy now!"


Wuben G2 Mini Keychain Flashlight Limited-Time Offer
Exclusive to the United States! From August 30th to September 30th (EDT)!
| Product | Original Price | Discounted Price |
| --- | --- | --- |
| G2 Mini Keychain Flashlight | $22.99 | $9.9 |
| Quantity | Time | Limitations |
| One piece per person | Starts at 7 AM | For US users only  |
G2 Mini Keychain Flashlight Specifications
| Specs | Wuben G2 Keychain Flashlight |
| --- | --- |
| LED | OSRAM P9 |
| Max. Lumens | 500 lm |
| Max. Beam intensity / distance | 540 cd / 46 meters |
| Battery config. | built-in (280 mAh) |
| Onboard charging | USB-C |
| Modes | 5 (Turbo, High, Med, Low, Moon) |
| Blinkies | N/A |
| Waterproof | N/A |
| Weight | 28g (Built-in battery) |
| Size | 58.5mm × 27mm × 9.2mm (L × W × H) |
Bright ideas in your pocket
Imagine having a light that's so slick it fits right in your pocket – no fuss, no hassle. That's the Wuben G2 for you – a real game-changer that's here to brighten up your world. Whether you're out in the wild or just trying to find your keys in the abyss of your bag, the Wuben G2's got your back, no questions asked.
Let's talk about this bad boy's modes – we're talking Turbo mode, dishing out a whopping 500 lumens for those "I need to see everything" moments. But wait, there's more! There's the Moon mode that'll glow on for up to 70 hours, giving you just the right amount of light when you need it. It's like having your own personal light show at your fingertips.
Three colors: black, green, and blue
Now, let's talk real talk – this bad boy isn't just about flash. It's stylish, and it comes in three shades that'll make you go, "Dang, that's cool!" Black, green, and blue – take your pick and let your style shine, just like this bad boy.
Get in on the action
Alright, here's the deal – from August 30th to September 30th, it's your time to shine. We're giving you the chance to snag the Wuben G2 Mini Keychain Flashlight for an unbelievable $9.9, plus a small $7.99 shipping fee. Trust us, this is the kind of offer that makes you wanna shout, "Give me that bad boy!"
Light up your world
So there you have it – the bad boy that's gonna light up your life in more ways than one. Whether you're exploring the unknown or just trying to brighten up your day, the
Wuben G2
is the ultimate partner in crime. Don't miss out – grab your bad boy now and let the adventure begin!
Visit our
store
and review your Wuben G2 Mini Keychain Flashlight – 'cause being in the dark is for rookies!