Wuben Flashlight News
Discover the Wuben G3 Multi-Functional Keychain Tool - Your Ultimate EDC Choice!
Aug 10, 2023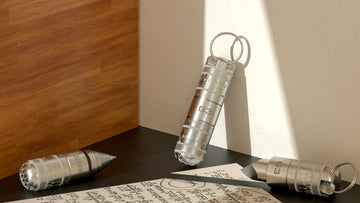 Wuben G3 - Mini EDC Unboxing Knife with Ballpoint Pen
Dear EDC enthusiasts, advocates of refined living, and tool aficionados,
We are delighted to introduce the Wuben G3 Multi-Functional Keychain Tool, a cutting-edge innovation that combines the features of a EDC unboxing tool and a mini ballpoint pen, bringing you unparalleled convenience and innovative design in your daily life.
Wuben G3 EDC Multi Keychain Tool
Unique Features of the Wuben G3
1. Swift Unboxing Tool
: Need to swiftly open packages or gift boxes? Equipped with a sharp blade, the Wuben G3 allows you to effortlessly and quickly unbox, adding a touch of convenience to your life.
2. Emergency Writing Companion
: With the built-in Mini Ballpoint Pen, the Wuben G3 becomes your reliable writing companion. From jotting down notes to signing documents, it caters to all your writing needs.
3. High-Quality Stainless Steel
: We adhere to the use of high-quality stainless steel material, ensuring the durability and stability of the Wuben G3 Keychain Tool, providing you with a trustworthy companion.
4. Magnetic Design
: The magnetic design of the Wuben G3 Keychain Tool allows easy attachment to your keyring, making it readily accessible whenever you need it.
5. Attention to Detail
: We have thoughtfully designed Indiana Totems, adding a unique artistic touch to the tool, enhancing the aesthetics of your daily life.
Limited-Time Offers
Product
Wuben G3 EDC Multi Keychain Tool
Discounted Price

$4.99

(Original Price: 

$22.00, Up to 77%)
Time (EST)
From 8:00 AM on August 10th to 8:00 AM on September 8th
Available in

Users from the United States, Australia, Germany, and France

Quantity

100 pieces
A Better EDC Multi Keychain Tool for Unboxing and Writing


Mark your calendars for an exclusive opportunity! From August 10th (8:00 AM Eastern Time) to September 8th (8:00 AM Eastern Time), get your hands on the innovative Wuben G3 Multi-Functional Keychain Tool. This offer is exclusively available to customers in the United States, Australia, Germany, and France. With only 100 pieces available, act quickly to secure your Wuben G3. Choose from a single piece for just $4.99 or a double bundle at $7.99. Elevate your daily routine with the convenience of the Wuben G3 – don't miss out!
In addition to this remarkable offer, we're also offering a
15% discount (coupon code:WB15) on the Wuben X0 and Wuben X2 EDC light
, adding variety to your refined lifestyle.
Wuben X0 EDC Flashlight
The
Wuben X0
, a pioneering embodiment within the esteemed Wuben X series introduced in June 2022, stands as an emblem of the profound strides achieved within the realm of EDC flashlights. Emitting a remarkable luminosity of 1100 Lumens, the X0 adeptly melds this potent radiance within the confines of a diminutive form factor, measuring merely 57 x 24.5 x 28 mm. Its incorporation of a magnetic base enhances usability through hands-free operation, complemented by an interactive cover that imbues a captivating facet to its design language. Irrespective of whether one's pursuits gravitate towards outdoor exploration, the demands of a vocation necessitating portable illuminative capabilities, or an inclination towards inventive interactivity, the Wuben X0 transcendently surpasses anticipations, positioning itself as an extraordinary paragon of choice.
But wait, there's more! Wuben lights up back-to-school in the best way possible! For a limited time,
get 30% off our thoughtfully bundle X0 EDC flashlight and H1 rechargeable headlamp set
, the perfect gift from parents to brighten those early morning trips to the bus stop and late night studying sessions.
Wuben X2 EDC Flashlight
Embark upon a journey with the Wuben X2, an exemplar of compact potency within the distinguished X series. Boasting a design meticulously crafted for portability, fortified by a magnetic base that endows hands-free functionality, and commanding an impressive illumination prowess reaching up to 2500 lumens, the X2 emerges as a paragon of versatility and dependability within the realm of flashlight craftsmanship. It offers the convenience of charging and carrying all in one, it seamlessly accompanies you through the tapestry of daily exploits.

Take Action Now! Click the Link to Get Your Wuben G3 and Experience the Ultimate in Convenience and Innovation!

We cordially invite you to join Wuben in embracing a more refined and convenient way of living. Don't miss out on this rare opportunity to make the Wuben G3 your trusted companion for unboxing, writing, and illuminating your creativity. Let the Wuben G3 be your close companion, always by your side.

Let's embark on a new chapter of refined living together!

Wuben, committed to bringing you more convenience and excellence.