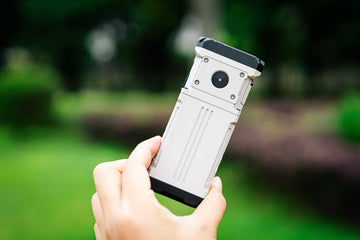 If you're tired of bulky flashlights that weigh you down, the Wuben X1 Small And Powerful Easy Carry Light is the perfect solution.
The Wuben X-1 Falcon is a compact rectangular flashlight that boasts a maximum output of 12,000 lumens and a beam distance of 303 meters. It comes with four preset modes to handle any situation, including a 3000 lumen mode that lasts for 1.7 hours. The X-1 also features a built-in waterproof fan that operates quietly to help lower the unit's temperature.
With seven different lighting modes, including Turbo, High, Medium, Low, Eow, Strobe, and SOS, the X-1 is versatile enough to handle a variety of scenes. The flashlight is equipped with 21700 4800mAh battery pack that can be recharged via a USB-C cable, which supports Power Delivery for a full charge in just two hours. In addition, the X-1 can be easily attached to a bicycle mount for nighttime riding, although the package does not include the mount.
Whether you're camping, hiking, or just walking at night, this flashlight is a reliable and convenient option. Hurry and order yours today, as inventory is limited!