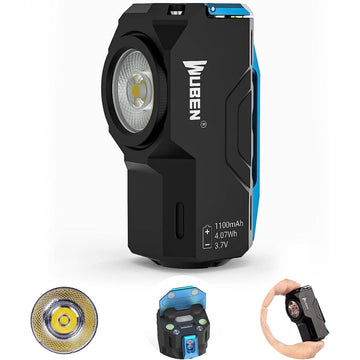 Up to 1,100 Lumens | Pocket Friendly | Magnetic Tailcap. A small & powerful light source that is perfect for on the go.
Wuben X0 is proving to be very popular with our social media followers, to such an extent, that as a Kickstarter project, the target funding was met in less than 3.5 hours!
Features
Looking at the X-0 Knight, you can immediately see that it is a unique flashlight! What will probably first stand out is its angular structure as opposed to a more traditional, cylindrical design.
Another less usual feature is the fact that it is a 90 degree angled flashlight! Many users prefer the ergonomics of these for reading books or maps in the dark or when walking or running. Users will also be able to illuminate an area whilst freeing their hands using its clip or magnetic tail to mount it on any ferrous surface with ease!
Just 57mm length and weighing only 82g, its maximum output is 1100 lumens, giving it comparable power to a much larger EDC or tactical flashlight! On its moonlight mode, it can run for 130 hours - that's nearly five and a half continuous days and it fully charges in just 1.5 hours via its type-C USB cable!
The X-0 Knight also offers choice -  as well as being available with two varying LEDs, it is also available in two different alloys of aluminum or titanium! There are so far two colours available for each material - black and white for aluminium and green and grey for titanium! The green titanium version also has gold patterns to make a stylish circuit board design! But there is also a further way of customizing - and that is by adding tritium vials! The vials glow, resembling mini neon lights and are available in a range of colors for you to explore using the X-0 Knight's 6 slots!
An additional property is that, not only does it have 4 brightness settings along with strobe and SOS modes, the X-0 Knight features stepless dimming allowing you to set it to exactly your preferred brightness! Its memory function will remember this setting, returning to it when switched on and off or it can easily be reset to its default outputs!
Tritium vials
Available to purchase from a number of online retailers, tritium vials glow continuously and last for two decades! The do not need to be charged with other light sources and do not need any external power!
The vials have glass housing which is gas proof. The inside of the glass is coated with a thin layer of phosphorescent powder. This powder (normally zinc sulphide) has the ability to use the energy from electrons being emitted onto its surface to produce light! Tritium (or hydrogen-3) gas is a rare and radioactive isotope of hydrogen, a low radiation beta emitter which whilst decaying, emits electrons. This process of the emitted electrons hitting the phosphorescent powder to produce light is known 'phosphorescence'. The colors of the vials only depend upon the powder and not the tritium gas, so many different colors of glowing vials are available!
Tritium it is not dangerous externally because its beta particles are unable to penetrate the skin, so the gas can only be a radiation hazard if breathed in, ingested via food or water or absorbed through the skin!
Choice of titanium or aluminum alloys
Both alloys are rust-proof, with titanium being the more corrosion resistant of the two. Titanium offers more tensile strength and hardness, but is more dense, meaning that these versions will be noticeably heavier than their aluminum counterparts. Aluminum has improved heat dissipation which is beneficial to preventing the flashlight from overheating, protecting its inner electronics more.
Osram P9 or Samsung LH351D LEDs
The Osram P9 LED has a higher maximum brightness of 1,100 lumens with a color temperature of 6500K 'cool white' and a wide beam angle of 175 degrees. The Samsung LH351D has a lower maximum brightness of 900 Lumens but has a CRI (Color Rendering Index) of 90+ (considered excellent), meaning it provides more vibrant and realistic colors when it illuminates. Its 5000K color temperature appears more yellowish than the beam of the Osram P9 which is more white.
Unique Switch Design
The button switches on the X-0 Knight, cycles it through the modes, can be clicked to act as a stress relief toy and covers the charge port. Lifting the button flap reveals its USB-C interface and battery indicator which glows red to indicate charge and blue to show it's fully charged. The X-0 Knight still remains IP68 waterproof if the button/cover is lifted and water comes into contact with its USB-C port! Pressing the button 4 times activates 'lock-out' mode to prevent accidental operation and the button will also give direct access to turbo and eco modes along with allowing stepless-dimming!
Accessories
The package comes with:
The X-0 Knight flashlight
USB-C charge cable
2 spare o-rings
User manual
Parameters
See the parameters of the X-0 Knight below to help decide if it is for you!  Specifications for the aluminum alloy, Osram P9 LED versions are shown where the three varying parameters for the Samsung LH351D models and are in brackets.
Standard

Turbo

High

Medium

Low

Moon

Strobe

SOS

Output/lumens

1100ʅ300 (900ʅ300)

250

150

50

1

1000

50

Runtime

1minʅ2hrs

2.5hrs

15 hrs

40 hrs

130 hrs

_

_

Throw distance: 125m (103m)

Intensity/cd: 3920 (2670)

Weight: 82g / 2.89oz

Impact resistance: 1.5m

Dimensions: 57x24.5x28mm / 2.24x0.96x1.10in

Waterproof: IP68 -2m underwater for 1 hr
The X-0 Knight In Your Pocket