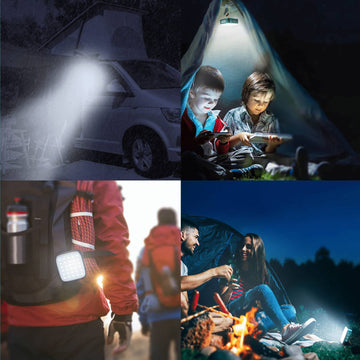 The Wuben F5 is a versatile gadget that can be used as a camping light, fill light for photography or a night light. Available in two colors - emerald green and cement grey, it also features a power bank! It also offers 3 choices of light output colour along with 3 levels of brightness!
The accessories that come with the F5 include a USB-C charge cable for convenient charging, an S-hook and lanyard to allow a range of mounting options. To allow further options to position the F5, it has a magnetic surface on its back for quick attachment to ferrous surfaces. Its ring, where the S-hook can be attached, acts as a stand and can be rotated up to 180 degrees, enabling the F5 to be balanced at a range of angles! The F5 also has a 1/4 inch screw thread which allows it to be attached to camera tripods for use as a fill light.
There are three buttons on the F5, '+' and '-' buttons which increase and decrease the light output (to toggle low, medium and high output settings) and the 'W' button which turns on the F5 with a single press and cycles through the 3 LED color settings with a double click click - these settings are 5700K- crisp daylight, 4500K - cool white and 3000K warm white/yellow glow!
Don't have an emergency light source when worried about camping?But if you have the F5 Camping Light, you can instantly illuminate your surroundings. Only sale $39.99 & Shop Now!
Its battery indicator comprises 4 blue LEDs which indicate the level of charge and flash when the F5 is charging.  Triple clicking the 'W' button, activates the breathing light, where the 4 LEDs gently flash to allow you to easily find the F5 in the dark - an especially useful feature for camping.
Another useful aspect for outdoor use is the fact that the F5 is IP64 rated - this means it has resistance to splashes of water e.g. from rain!
As a power bank it has a capacity of 5200 mAh - this means that it can fully charge most phones (which typically have a capacity of 3500 mAh), more than once, so if you are considering purchasing a power bank, why not choose the feature-packed F5?
See the parameters of the F5 below!
ANSI FL1 Standard

High

Medium

Low

5700K

500~300 lumens

140 lumens

10 lumens

4500K

480~280 lumens

130 lumens

8 lumens

3000K

430~230 lumens

120 lumens

7 lumens

Runtime

5 mins + 10 hours

20 hours

190 hours

Beam distance: 25  meters

Impact resistance: 1 meter

Weight: 203g

Dimensions: 84mmx78mmx28.5mm

Waterproof level:IP64 - full protection from dust and protection from water splashes
Multiple Color Temperature Camping Light