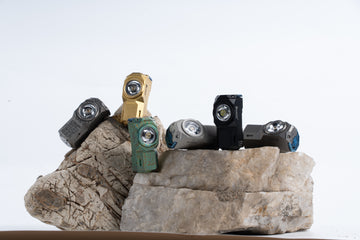 Wuben is an interesting company making waves in the flashlight industry. It produces effective and powerful flashlights that are not only reliable but also portable and illuminating. The most common glimpse of their technology and efforts in Wuben X0 is easy to carry light.
Wuben released a Wuben X0 flashlight with a USB-C charging spot. It has many tritium slots and a novel design to ensure a good appearance and illuminate your way for many feet. Are you planning to buy a Wuben X0 aluminum light? But I'm skeptical about performance. Read on to resolve second thoughts.
Features of Wuben X0
When it comes to performance, Wuben X0 is equipped with bundles of distinct and useful features that help it stand out from a plethora of options. Its most considerable features are.
Build Quality
It has top-notch build quality. Due to aircraft-grade aluminum construction, it feels extremely solid in the hands. There are multiple design lines all over the flashlight, but none of them is sharp. Wuben X0 flashlight has six slots to put tritium vials as well as glow tubes. Four tubes are located around the base of the light, while the rest are at the switch lever.
Apart from the aluminum version, the Wuben X0 also comes in brass construction, but nothing can beat the look of the white aluminum version that uses micro-arc oxidation. The excellent quality construction provides it enough strength to endure accidental drops and throws. So, be ready for the trek on an illuminating night.
Size
Wuben X0 is a minimal-sized hand and pocket light that measures 2.24 inches in length and 0.96 x 1.10 in width. As the size indicates, it is lightweight and weighs around 82g only. Whether you are going to the office, sports, tracking, hiking, or anywhere, there is no surety of light. Keep Wuben X0 light at hand to see your way despite all barriers.
Although it is of minimal size, it delivers 175 degrees wide angle with a maximum output of 1100 lumens. To watch far or find a ball from the bushes, this easy-to-carry flashlight will deliver a 125m beam distance. Do not underestimate the tiny volume!
Charging
With a lot of flashlights coming with USB-C charging, there is no reason to change or remove the battery. But what about you needing to remove it due to a short life? It's annoying! Try Wuben X0. This flashlight's battery is designed to stay in and cannot be removed easily, but surely you can when the time comes.
Wuben X0 features a regular 1830 battery with a capacity of 1100mAh. Moreover, Wuben X0 has a USB-C port under the switch which is sealed to give the light IP68 rating. This light charges fine with both USB chargers with the 1-amp charge rate. This flashlight can take around 1 hour 30 minutes to charge fully, which will last 130 hours.
LED and Beam
The Wuben X0 knight flashlight has 2 LED options, including Samsung LH351D and Osram P9 LED. Its LEDs are pleasant neutral white, and the TIR optic is excellent for EDC tasks as you get the required hotspot for the bit of throw. It has reasonable mode spacing, which ranges from 1 to 250 lumen. Anyhow the turbo mode can jump up to 900 lumens.
Interface
Wuben X0 has a simple and straightforward user interface making it easy to use in all environments. It has 5 available modes, including Moon, Low, Med, High, and Turbo. Press and hold to turn on Moon mode. Wuben X0 also has an LED indicator that keeps users updated about battery life. When the red flag turns on, it means you have less than 15% battery.
What are the Benefits of Having Wuben X0
Despite all the astonishing features, do you wonder why you should invest in this minimal-sized light? Here are some reasons that make it best of all.
It is small, delicate, and lightweight, which makes it super easy to carry in a bag and pocket.
Wuben X0 is equipped with strong and flexible clips to handle it with a belt or shoulder. The addition of a magnetic tailcap liberates your hands by easy hanging.
The easy and simple design features a stress relief clip that acts as a switch. It also provides necessary water and dust protection to the C-type USB port.
The aluminum construction ensures a longer and safer run of this minimal flashlight.

Conclusion
When it comes to flashlights, every company claims to be the best. But do you xsknow the light that is lightweight, small, and powerful is worth buying? Among all, the Wuben X0 flashlight lives up to all client's expectations.
Wuben X0 is the most selling model, which is highly appreciated by the users. The powerful light and minimal LED keep your way illuminated for 130 straight hours if the battery is fully charged.