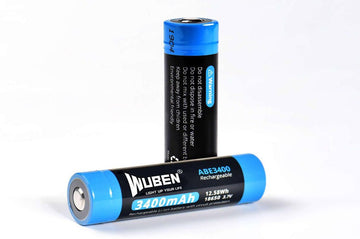 What is so special about 18650 battery?
About of 18650 Batteries
Lithium metal and lithium-ion batteries
Popular in flashlights and portable electronic devices (PEDs) such as laptops, lithium-ion (li-ion) batteries are used extensively for a variety of reasons - they have a higher capacity, give higher output and do not leak over longer periods of time (like alkaline batteries can).  They also have built-in safety features!  
Lithium is the lowest density metal which also has the greatest electrochemical potential and energy to weight ratio.  This means that lithium has excellent energy storage capacity. These high energy density and low weight density properties make it the ideal material to act as a power source for when high power and low weight is needed!
Batteries containing lithium were first experimented with in 1912 and then first sold in the 1970's.  They were used in industries looking for powerful, long lasting batteries which were also lighter in weight. Other types of battery including nickel-cadmium and lead acid are slowly being replaced with li-ion cells. Not to be confused with lithium-metal batteries which are non-rechargeable, lithium-ion batteries can be recharged many times over!
What '18650' means
18650 batteries are a popular choice in EDC and tactical flashlights because of their size which allow the flashlight to have a good balance of runtime, output and portability!
For all li-ion batteries, their approximate physical dimensions, in mm determine the name of them.  The first two digits indicate the approximate diameter and the following two indicate the approximate length.  These two sets of numbers are then followed by a zero.  So for an 18650 battery, the first two digits are 18, meaning every 18650 battery has about 18mm diameter, the next two digits are 65, meaning they have around 65mm length!  
18650 battery chemistry
There are actually a number of different chemical compositions for li-ion 18650 batteries which are listed below.  It is worth finding out the composition of the 18650 battery because each of the various ones are slightly more suited for different tasks.
These different types of li-ion chemical compositions are listed in order from the least volatile to the most volatile. Volatility is measure of how prone to overheating and exploding the battery is!
LiFePO4: Lithium iron phosphate abbreviated to IFR or LFP or Li-phosphate: Least volatile
LiMn2O4: Lithium manganese oxide abbreviated to IMR or LMO or Li-manganese
LiNiMnCoO2: Lithium manganese nickel abbreviated to INR or NMC
LiNiCoO2: Lithium nickel cobalt oxide abbreviated to NCO
LiCoO2: Lithium cobalt oxide abbreviated to ICR or LCO Li-cobalt: Most volatile
Flat top and button top batteries
The positive pole of a battery can be 'flat' top or 'button' top.  A button top has a protruding surface which increases the length of the battery and so it may not fit in a device which uses a flat top battery.  Also a flat top battery, which, as its name suggests has flat surface on top and may be too short for those requiring button batteries!
Causes of li-ion batteries overheating
Lithium is the least dense metallic element and is also highly reactive and this makes it combustible! A li-ion battery has an electrolyte solution which has salts and organic solvents.  
When the battery is charged, the lithium ions are driven from the electrolyte solution into a carbon anode.  When the battery is discharged, discharged ions flow back.  These flowing ions create a flow of electrons that creates a current and powers the device!
Physical damage to the separators, which are in the battery and that keep the elements of the battery apart, are thin and this can cause a short circuit.  This can then cause a build up of heat known as 'thermal runway'. Thermal runway can cause the battery to ignite!
Damage can also occur by using the batteries in hot environments and excessively charging and discharging them.  
Completely running down a li-ion battery can also completely destroy it, so manufacturers, such as Wuben have installed a number of safety features in them to monitor their temperature and regulate their charging and discharging!
18650 battery care and safety advice
Li-ion batteries are durable but there are some things you can do that can help further prolong their lifespan!
Ensure they do not get too hot or cold: Storing them in a vehicle on a hot day may slightly reduce their lifespan. Room temperature is optimal and storage in a cupboard, drawer, box or wardrobe where the temperature does not rapidly increase or decrease will work well.
Ensure they do not get wet: This can happen with condensation in damp areas or direct contact with water.
Avoid pressured environments: A flight on an aeroplane will create a pressured environment which may potentially cause damage to an 18650 battery.  The CAA allows two protected spare batteries per personand the terminals must be insulated with for example, tape. Each battery must be placed in a separate bag or pouch.  The batteries must only be taken on carry-on baggage and not checked-in baggage!
Never completely discharge batteries - put them on charge when you know they are low.
Fully charge your batteries fully before their first use.
Never charge batteries to above their specified voltage.
Avoid charging them unattended.
Avoid storing 18650 batteries fully charged for extended periods of time.
Use high-quality battery chargers designed for use with 18650 batteries.
Always charge your batteries on fireproof material, such as a heatproof mat.
Don't use or charge any battery or use a charger with any visible damage.
When storing and transporting your batteries, use a purpose-built case to keep them safe.
Avoiding keeping a spare 18650 battery loose in your pocket, bag or purse, because it can become damaged.
Do not use a battery if it overheats, hisses, or bulges - immediately take the battery away from any flammable materials and take it outside as soon as possible.
Avoid leaving a damaged battery unattended, until you can safely dispose of it.
Safety features of Wuben 18650 batteries!
For your safety, and to ensure your flashlight and battery are long lasting, all Wuben batteries are protected with three safety features!:
PTC : A PTC (Positive Temperature Switch) is a small round disc at the top of the battery, inside the casing. PTCs protect against overheating.  They will automatically reset.  They have low resistance, but if there is a surge in current, the battery will heat up and the PTC will increase its resistance to prevent burning.  PTCs self-cool.
CID : A CID (Current Interrupt Device) or pressure valve: This will disable the cell permanently if the pressure is too high in the cell which can happen from overcharging.  CIDs are similar to the PTC because both features disrupt the circuit connection to prevent overheating.  If the battery becomes overcharged, its pressure increases, but the CID will interrupt the connection with the positive terminal.  It works by venting gas through the hole in the top of the battery if it becomes overheated.
PCB:A PCB (Printed Circuit Board) integrated into the cell packaging.  The circuits protect over charge and over discharge, short/over current and high temperatures. The circuit board will reset automatically or when placed in a charger.  Protected batteries are less likely to cause harm or damage to property as they are less likely to ignite.
Wuben flashlights which use 18650 batteries
Wuben has a range of flashlights which use 18650 batteries. This table will help you find the ones most suited for your needs!
Flashlight

Type of flashlight

Max throw/m

Max output/lm

Max runtime/hr

Length x diameter/mm

Weight/g

C3

Everyday carry

179

1200

143

121.5x25.4

123

L50

Everyday carry

200

1200

143

138.6x26

138

E12R

Everyday carry

179

1200

173

137x25.8

142

TO40R

Everyday carry

220

1200

125

130.2x25.4

141

TO46R

Everyday carry

115

1000

123

120x25.4

128

TO50R

Everyday carry

146

2800

191

124.5x31

202

D1

Everyday carry

(also power bank)

130

1100

150

105x23.5

109

L60

Everyday carry

(zoomable)

320

1200

219

148x39

128

H8

Long range

1000

1800

468

251x64

395

T101 Pro

Long range

500

4200

290

259x65

463

T103 Pro

Tactical

508

1280

340

172x42

224

T1

Tactical

498

2000

100

162x40

215

B2

Bike light

280

1300

7 (200 lumens)

121x36

186
18650 smart chargers available from Wuben
Having a charger and spare battery is an excellent way to ensure your flashlight will be powered for extended periods!  Available in a choice of 1 or 2 bays, Wuben offers chargers for li-ion batteries which can also charge multiple battery types including  NiMH (nickel metal hydride) and NiCd  (nickel cadmium)!  It can also charge different sizes including  14500, RCR123, 16340 and 26650 as well as 18650 batteries!  
Wuben 18650 batteries
Wuben flashlights are compatible with batteries from other brands, you can compare these specs to the 18650 Wuben batteries in the below table! The recommended temperature range for the below batteries is -10 deg C up to 60 deg C and they can be charged 500 times!
| | | | | | | | |
| --- | --- | --- | --- | --- | --- | --- | --- |
| Battery | Capacity/mAh | Voltage | Max current/A | Weight/g | Length/mm | Diameter/mm | Button or flat head? |
| ABE3400T | 3400 | 3.7 | 6 | 48 | 69.8 | 18.6 | Button |
| ABE3100C | 3100 | 3.7 | 6 | 48 | 69.8 | 18.6 | Button |
1 comment