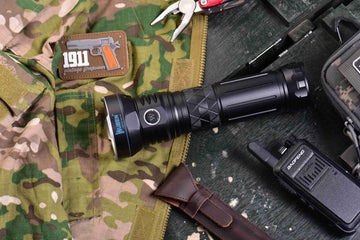 Super Bright Waterproof Flashlight-12000 Lumens

Wuben A9
The Wuben A9 is a high performance flashlight which is primarily designed for search and rescue, but can also be used in a range of settings because of its high, medium, low, turbo and SOS outputs! Its maximum output is 12,000 lumens and it has a maximum beam throw of 420m!  Though powerful, it can be easily carried and switched between modes with one hand!
Uses
Search and rescue: The A9 is especially designed for search and rescue situations and allows you to light up long distances of 420m and cover ground more effectively and at the same time. The beam can also serve as a beacon to the person you're searching for!
Law enforcement: The A9's ability to inspect a situation with its flood beam whilst keeping distance is important and the A9 will help you quickly identify potential threats, investigate unfamiliar sounds or command a suspect's attention!
Emergency signalling: The A9 with its 420m range can be used as an emergency beacon and with its comparatively bright 12,000 lumens you will increase your likelihood of being found!  In an emergency such as being rescued from a flooded building or having an injury deep in a forest,  the A9 makes an incredibly effective signalling tool especially with its SOS  mode.
Land management: The A9 will let you search and inspect over greater distances, so you don't have to get up close to investigate intruders, missing livestock, and other issues that may arise in the dark.  Ranchers, farmers, and those who live out in the country are likely understand the importance of having a high output that covers larger areas.
Durability
The Wuben A9 is dustproof and waterproof with IP68 rating - this means not only will it be fully operational in severe weather, it can be submerged in water of 2m depth for 1 hour! It is also impact resistant for 1m drops to the ground!
LED
The A9 has three CREE XHP 70.2 LEDs.  These have high lumen density, reliability, and color consistency! XHP70.2 LEDs have improvements to the lumen density, voltage characteristics, reliability, and optical performance of the previous generation CREE XHP70 LEDs.  XHP 70.2 LEDs have a 7.0mm x 7.0mm package, longer lifetimes and can be operated at higher temperatures compared to most other flashlight LEDs!
Button
It A9 has a side button switch which allows you to switch between modes when carrying it with one hand! Triple clicking it will turn on its breathing light -  this is green and designed to help you locate it in the dark!  The button also acts as a battery level indicator - at less than 15% charge it flashes red, stays constantly red on between 15-40%, flashes blue between 40-90% and stays constantly blue for over 90% charge! Instant turbo can be operated by double clicking and to prevent turning on by accident, the button can be clicked 4 times for lockout mode!  One of the LEDs blinks 3 times to confirm that the A9 has been locked out!
Battery
The A9 comes with a removable customized Wuben ABG 10200 li-ion battery which gives you the option of carrying more than one battery or replacing when needed it to prolong the life of it! It has a capacity of 10200 mAh - this is more than double of what 21700 li-ion batteries in EDC flashlights have, where they typically have a 4800 mAh capacity!  The battery is conveniently charged with the USB-C interface.  If the A9 emits 20 lumens on its moon mode, it can continuously run for 23 days! Safely features of the included battery include:
A PCB (Printed Circuit Board) which protects over charge and over discharge, short/over current and high temperatures.
A PTC (Positive Temperature Switch) which is a small round disc at the top of the battery, inside the casing and protects against overheating.  The battery has low resistance, but if there is a surge in current, the battery will heat up and the PTC will increase its resistance to prevent burning.
A CID (Current Interrupt Device): This will disable the cell permanently if the pressure is too high in the cell which can happen from overcharging. If the battery becomes overcharged, its pressure increases, but the CID will interrupt the connection with the positive terminal by venting gas through the hole in the top of the battery.
Build quality
The body if the A9 is made from grade III anodized aluminium allow which is durable and has excellent heat dissipation qualities which keeps the LEDs cooler, prolongs the life of the flashlight and allows more brightness! This body also has anti-slip knurling and the reflector is also made from aluminium alloy. Its lens is made from toughened glass with double sided anti-reflection coating and it features a stainless steel bezel which can be used for self-defence or as a glass breaker!
Accessories
Along with the flashlight itself, the A9 comes with a hard plastic cuboid carry case with a handle, 10200 mAh li-ion battery, power adaptor, type-C charging cable and a shoulder strap!  There is also a user manual and warranty cards and to help prolong the lifespan of the A9, it also comes with 2 O-rings to ensure you can keep it IP68 waterproof for as long as possible! Two gifts are also included - a metallic dog tag style necklace and a lanyard which has a compass!  The A9 has two holes for its shoulder strap, a screw thread to mount it to a tripod and comes with a 5 year warranty!
Specs
Please see the specifications below to see if the A9 is for you!
ANSI FL1 Standard

Turbo

High

Medium

Low

Output/lumens

1200ʅ2600

4000ʅ2600

1000

20

Runtime

1 min+3.6 hours

4 hours

11 hours

23 days

Beam distance/m

420

242

121

17

Intensity/candela

40900

14695

3674

73

Flash modes

Strobe: 12000 lumens

SOS: 500 lumens

LED

3x CREE XHP 70.2

Impact resistance

1m

Waterproof level

IP68: 2m underwater for 1 hour

Weight

795g with battery

Dimensions

215mm length, 68mm diameter
WUBEN A9 Super Flashlight