5 Tips To Help You Find The Right Flashlight For Your Needs
Whether you are lighting up the inside of a tent, hiking, need lighting during an emergency or searching for someone in the dark, a flashlight is an essential tool for your camping trip!
With so many different types of flashlight with their own individual specifications, we have summarised key factors and described how to quickly find the most important information about a flashlight, so you can choose the ones to best suit your needs!  
1.  Eight

 Different Types Of Flashlights And Why To Have Each Type
It is good to know about the different types of flashlight, before choosing one for your trip. Our range of EDC , tactical , pen lights, headlamps, bike lights, high power and camping flashlights can be researched on this website. 
Headlamps
Headlamps are often overlooked as a choice for camping flashlight but advancements in technology mean that they have the runtime, power and portability to free your hands whilst giving a good amount of power and runtimes. They are particularly helpful if a camping companion is injured and you need to provide assistance in the dark!
EDC flashlights
EDC or 'everyday carry' flashlights are torches for general use. They tend to be  smaller and lighter in weight than tactical flashlights and range from small keychain lights to medium hand held torches which are about the same length as your phone.  
Tactical Flashlights
Originally made for aiding firearms to identify targets in low light environments, tactical flashlights are primarily used by enforcement, security and military professionals. As tactical flashlights are normally made with high quality, durable materials and tend to be powerful whilst remaining compact, they are very good as camping torches and the additional power of them makes them useful for search and rescue as well as getting attention in emergencies. Tactical flashlights have additional features such as strobe and SOS flash modes along with tactical strike bezels and normally have more than 1,000 lumens output.
Keychain flashlights
Keychain flashlights typically have an output similar to that of a phone flashlight and are easy to remember to carry around as they are attached to your keys. They are very compact and effective for finding things inside the tent whilst relieving the battery of your phone flashlight.
Pen flashlights
A pen is generally useful to have on a camping trip. Wuben's range of pen flashlights include the E61 and E62 which as well as being pens, have white lights to help you write in the dark and blue and red auxiliary lights to help you get attention in emergencies. They also have additional features such as a glass breaker, surgical blade and an inkless pen.  
Camping lights
Dedicated camping lights are not designed for hikes, but to give you a soft, evenly diffused light for illuminating up the inside of your tent, as opposed to projecting a long range beam with a concentrated hotspot.
Flood flashlights
Effective for search and rescue, these have a less concentrated beam spot and light up wide areas. They are also suitable for hiking trips.
Long throw flashlights
These have a more concentrated beam spot and longer range than flood flashlights. Long range 'thrower' flashlights can also act as a beacon, to signal to those who are searching for you.
2.Optional features to consider when choosing a camping flashlight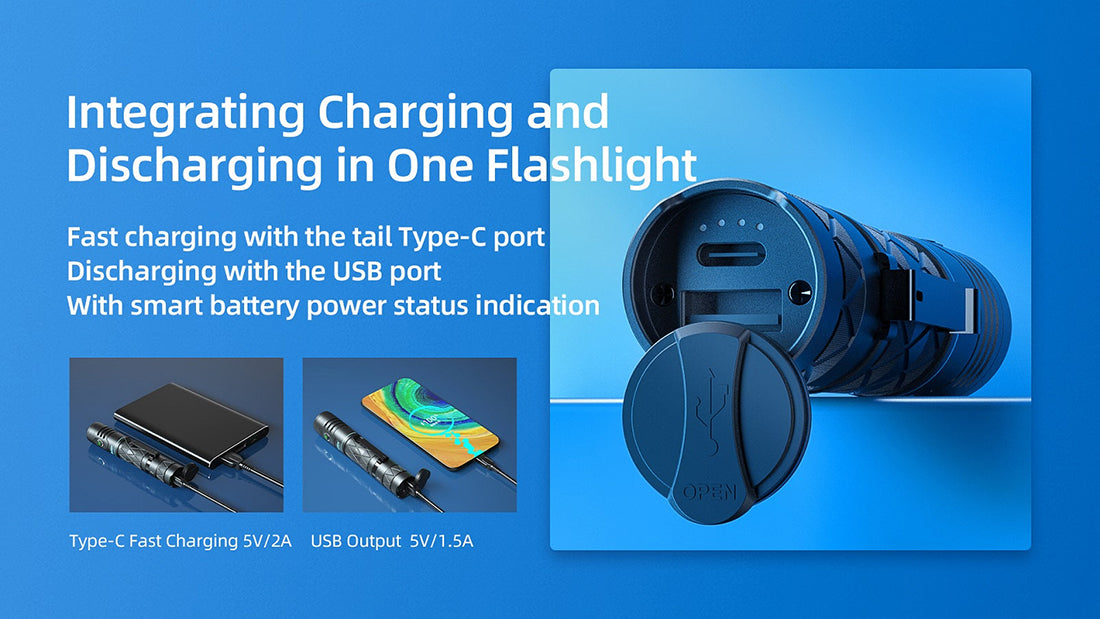 Power bank capability
Some EDC, tactical and camping flashlights can also be used as power banks! They typically have the capacity for one full phone charge and this useful feature will help ensure that your phone battery does not fully drain out whilst on your trip.  
Compatibility with a diffuser
A diffuser is a cap that cover the lens to enable it to provide a soft and more spread out light for the inside of your tent, rather than having a concentrated hotspot. Diffusers can make long range throw flashlights suitable for use as indoor camping lights!
Switch options
There are two main types of switches used for flashlights- side and tail switches. They both have their own advantages and are a matter of preference. There are also two types of on settings - 'momentary-on' and 'constant-on'.  Momentary-on means only having to slightly press the button to operate and it will turn off as soon as the button is released.  Constant-on means clicking the button so it stays on. Many flashlights have both of the on modes and both side and tail switches.
Ability to mount the flashlight
Whilst resting in the tent or carrying out a task outdoors in the same place, mounting options are helpful to keep your light source at the same place, allowing you to free your hands. Many flashlights can be mounted to magnetic surfaces or attached with a lanyard or hook.
3.ANSI FL1 standards will give you key flashlight information quickly
ANSI is an abbreviation for the American National Standards Institute, which is a non-profit organisation.   In 2009, ANSI created the 'FL1' standards to ensure that flashlight companies tested their products and used  terminology in the same way to enable the consumer to compare different torches easily. For an example, we are going to use this table which is for the Wuben C3.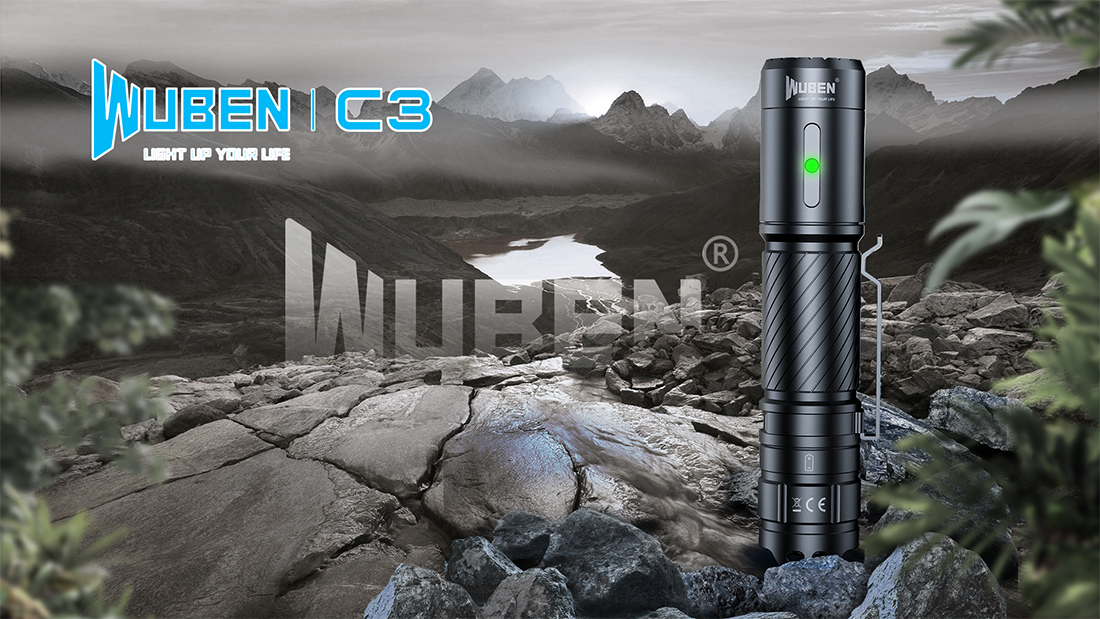 The table shows specifications for 4 output modes - in this case the C3 has 'high', 'medium', 'low' and 'eco' modes.
ANSI FL1 Standard

High

Med

Low

Eco

Output

1200ʅ500 lumens

400 lumens

80 lumens

5 lumens

Runtime

1min+2.5 hours

3.5 hours

20 hours

143 hours

Beam distance

179 metres

50 metres

10 metres

1 metre

Intensity

7985 candela

2660 candela

532 candela

30 candela

Flash mode

Strobe (1200 lumens) | SOS (200 lumens)

LED

1xOSRAM P9

Impact resistance

1.5 metres

Waterproof level

IP68 (2 metres underwater for 1 hour)

Weight

73g/2.57oz (without battery) | 123g/4.34oz (with battery)

Specification

121.5mmx25.4mm/4.78inx1.00in (LxD)
The left column, from the second row specifies the property that the values are given for. The first parameter looked at is the 'output'. It is measured in lumens and is a direct measure of brightness.  You can read more about lumens, beam (or throw) distance and candela here.
As you can see, for 'high' mode it reads '1200 ʅ 500' and for run time it states '1min + 2.5hours'.  This means that the flashlight will stay at 1200 lumens for 1 minute before stepping down to 500 lumens for 2.5 hours.
This stepping down of power is actually the case for most high (or 'turbo') modes for modern flashlights, where for a brief period of time, typically a minute or sometimes 30 seconds, a flashlight will be at its brightest then drop to a lower output level.  The flashlights are specifically engineered this way, to prevent the overheating of circuitry which can cause damage over time.
Note that the other modes, 'medium' to 'eco' do not have this drop of output, because the output on those modes will not generate so much heat to cause damage.  The runtime shows that the C3 can emit 1200 lumens, for 1 minute before dropping to 500 lumens which it can emit for 2.5 hours.  In eco mode, it can stay on for 143 continuous hours!
Beam distance is also known as 'throw'.  This also varies depending upon the mode of the flashlight, so the C3 can have a maximum range of 179m on high mode and this drops to 50m for medium, 10m for low and then 1m for eco.
'Candela' is a measure of beam intensity and how focussed it is in 1 direction.  You can read more about candela here.  Generally speaking, more candela means more throw distance, for example, the C3 gives 7985 candela in high mode with 179m distance and 30 candela for eco mode with 1m distance.
'Flash' modes are the 'strobe' and 'SOS' modes. These are both important features for camping flashlights. Strobe can be used for self-defence and has a high output of 1200 lumens which is the flashlight's maximum output where the torch flashes very quickly to disorientate an assailant.  'SOS' mode is used for being rescued when in danger and the C3 gives 200 lumens output for this.
The type of LED is sometimes given in these ANSI FL1 tables and in this case it's the Osram P9 for this C3 flashlight.  You can read more about LEDs used in flashlights here. 'Impact resistance' is how far you can drop the flashlight without damaging it.  In this case it is 1.5 metres.
The degree of protection from water and dust are determined by the 'IP' levels.  IP stands for 'ingress protection' and the C3 is 'IP68' rated.  The definition of this can be found below, along with other ratings which are most common for flashlights.
| | |
| --- | --- |
| IP rating | Meaning |
| IP65 | Protected  from low pressure water jets in any direction |
| IP68 | Protected from long term immersion up to a specified pressure e.g. 2m under water from 1 hour |
| IPX7 | Fully submersible in 1m of water for 30 minutes |
| IPX8 | Can withstand continuous submersion in water |
Next on the ANSI FL1 table is weight, where it is given in both grams on ounces and for the flashlight both with and without its battery.  Finally, the total length and maximum diameter are given in both mm and inches.   
4.Other considerations to help you choose a flashlight for your trip
Cost
Comparing the ANSI FL1 specs of similar flashlights and looking at their price differences along with their reviews is an effective way to decide whether you are getting good value for money or not.  Waiting for sales events is also good practice, but another way to save and get a quality flashlight at a great price is to create an account on this website and follow Wuben on Facebook where you will get exclusive deals and coupon codes!  
Battery type and capacity
You can read about batteries used in flashlights here.  Generally speaking, at the moment, lithium ion batteries have the most advantages when compared to others, because they have higher capacity for the same size and can be conveniently charged with USB-C. Some flashlights are compatible with both disposable and rechargeable li-ion batteries, such as the Wuben E6. Other flashlights such as the Wuben C2 are both compatible with 21700 and 18650 batteries!
The materials used for the flashlights
You can read about materials used in flashlights here.  'Anodised' aluminum alloys are considered a good all-round choice because of their balance of density, heat dissipation qualities which allows more brightness, the fact that they can be painted in a variety of ways along with their overall cost effectiveness.  Copper is one of the best materials for heat dissipation, but is more dense and titanium alloys have more strength but do not dissipate heat as well as aluminum alloys.
5.Conclusion
The key features to look out for and types of suitable flashlights for camping have been described. To help you choose the best one for your trip, the ANSI FL1 data tables will allow you to quickly compare specifications of different torches. On this website, you can easily to check and compare the specs, watch the videos and read reviews of the Wuben range to help you make the right choice!