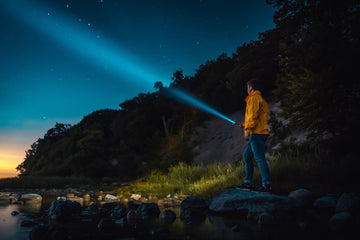 LEDs used in flashlights guide
What are LEDs?
LED stands for 'Light Emitting Diode'.  They are semiconductors which glow when electricity is applied to them and are widely used for a variety of light sources because they are energy efficient and have a long lifespan.  They are considered to be economical and environmentally friendly, where they typically consume 90% less energy with the same light output than traditional filament bulbs.  They also instantly emit 100% brightness as soon as they are switched on.  
The shade of the emitted light from flashlight varies in appearance for different models.  Below we will look at how these shades are defined to give you a better understanding.  We will also look terminology associated with LEDs you will see when buying torches and give an quick guide on LED brands to help you decide on your most suited specs.
LED temperature colours
The shade of colour from an LED light is given in Kelvin(K).    Shades of yellow and white light are measured on a scale from 1000K to 10,000K.  Commercial and domestic lighting applications range from 2000K (yellowish light) to 6500K (white light with slight blue hue).    
Colour temperatures over 5000K are called 'cool colours' and start becoming slightly bluish at this point.  Temperatures from 2000K-3000K are called 'warm colours' (yellowish) and range from orange to yellow-white in appearance.
3100K-4500K are considered to be 'cool white' or 'bright white'.  LEDs in this range emit white light which has a more neutral white or have a slightly blue tint.  4500K and above is considered to be close to the colour of 'daylight' which is blue-white.  
Daylight colour is between 5780K and 5900K.  
Below is a quick guide for light temperatures in domestic lighting to help you understand:
| | | | |
| --- | --- | --- | --- |
| Colour temperature/K | 2700 | 3000 | 5000 |
| Light appearance | Warm white | Warm white | Cool daylight |
| Ambience | Cozy, inviting | Warm, welcoming | Crisp, invigorating |
| Best for | Living room, kitchen and bedroom lighting | Bathrooms, entryways, outdoor, vanities, overhead lighting | Basements, garages, task lighting, security lighting |
A more detailed general light temperature guide is below:
| | |
| --- | --- |
| Temperature/K | Source of light |
| 1700 | Match flame |
| 1850 | Candle flame, sunrise and sunset |
| 2400 | Standard  incandescent lamps |
| 2550 | Soft white incandescent lamps |
| 3000 | Warm white compact fluorescent bulbs and LED lamps |
| 3200 | Studio lamps, photofloods |
| 3350 | Studio CP light |
| 5000 | Horizon daylight, tubular fluorescent lamps |
| 5500-6000 | Electronic flash |
| 6200 | Xenon short arc lamp |
| 6500 | Daylight, overcast |
| 6500-9500 | LCD or CRT monitor |
| 15,000-27,000 | Purple |
HID Xenon lights temperature guide
HID xenon car headlamp light temperature guides are an effective way to understand flashlight LED colours as they emit shades close to flashlight colours.   One is below:  
| | |
| --- | --- |
| Temperature/K | Name |
| 3000 | Golden yellow |
| 4300 | Pure white |
| 5000 | Alpine white |
| 6000 | Bright white |
| 8000 | Ice blue |
| 10,000 | Pure Blue |
| 12,000 | Purple/blue |
CSP chips and SMD chips
CSP stands for 'Chip Scale Package' and SMD 'Surface Mount Device'.   CSP chips are considered to be more reliable and take less space than an SMD chip.  CSP chips offer a smaller size with high optical density. They offer solder-free wiring which results in reduced thermal resistance and a reduced path of heat transfer.  This reduction of heat results in fewer failure points due to damage from heat and increased reliability.  
SMD chips are mounted on a holder and connected to the circuit board with wire.  The current flows through the wire to power the LED. Too much heat can damage the wires and result in failure.  CSP chips on the other hand are directly applied to the circuit board, reducing thermal resistance and heat generated and so they feature high light intensity per unit with less heat.  They are used extensively for car headlamps.
What are COB LEDs?
COB stands for 'Chip on board'.  COB LEDs are multiple LED chips (normally nine of more)  which are bonded together on a surface to make a single module.  The chips can be mounted in a variety of ways to take less space.  COB LEDs can achieve more lumen output per square inch by having fewer components which can reduce heat generated from each LED chip.  Having less soldering also increases the efficiency.   The operating temperature of them are further reduced with the aluminium surface where the LEDs are mounted are coupled with an external heat sink.  This effective heat dissipation increases efficiency and reliability.  
Cree LEDs
You have probably seen the word 'Cree' when reading about flashlights. Wuben products that include Cree LEDs are the B1, A9 and T102. Cree is a company that makes heat sinks, drivers and is most famous for their LED chips.  In short, Cree LEDs offer brighter light output and have renowned energy efficiency.  
Cree is a leading LED manufacturer which recently changed its official name to Wolfspeed.  Cree has been in business since 1987.  In 2020, Cree was acquired by SMART Global Holdings, Inc. Cree LEDs and their chips tend to be powerful and used in flashlights, industrial lighting, emergency lighting and vehicles. They are energy efficient and are very reliable.
LEDs are already energy efficient, but Cree uses advanced technology such as the '4Flow-based' LED bulbs which last longer and use less power.  To maintain high standards, Cree uses an external, third party to avoid conflict of interest and maintain impartiality when verifying quality and performance.  One such standard is lasting up to 30,000 hours.
Enjoy a 15% discount on all Wuben X series products, including X0, X1, X2, and X3.
Nichia LEDs
Nichia have high reliability and are certified to IATF16949 standards.  They make automotive LEDs for headlights, indicators, daytime running lights and adaptive driving beams.  For cars they also make LEDs for head-up displays, instrument panels, switches and interior lights.  Nichia also make backlight systems for LCD displays used in TVs, smart phones, tablets and laptops along with for large outdoor display screens.  Nichia's UV LEDs are used in instruments for currency detections, printer ink curing and precision curing.   The Wuben E19 uses the NICHIA 219C LED.  
Samsung LEDs
Samsung offer a range of lighting products with their mid-power, high-power, CSP and COB LEDs.  Their 2835, 5050 ranges are considered to be cost-effective with their CSP LEDS offering a range of colours.  Wuben uses the Samsung LH351D LED in its TO50R flashlight.  
Osram LEDs
OSRAM is based in Munich, Germany and has more than a 110 year history.   Osram LEDs are renowned for their reliability where their products undergo strict European quality control.  Their T8 'Substitube' LED tube lamp can continuously shine for 6 years or 50,000 hours.  The Wuben E12R, E10 and L50 use the Osram P9 LED.  
1 comment