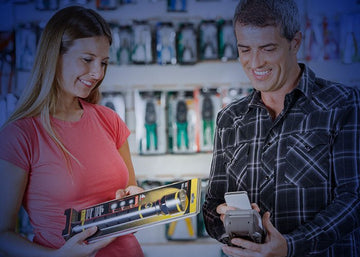 There are many products in Wuben. Each one has its own unique characteristics. Everyone has different needs for the product. If you want a flashlight that is unique to you, you must choose the one that is most suitable for you before understand your needs.
Want to choose one flashlight as a gift to show your love?
If you want to choose a small but textured flashlight as a gift, TP10 and TP10-G are recommended here. TP10 and TP10-G are tactical pen series, only the size of a pen, but taking into account both lighting and self-defense. The head of pen utilized ultra hard tungsten steel alloy, break the window, defense and respond to a variety of emergencies. 3LM and 130LM brightness can meet the lighting needs of different environments in daily life. Schnerder 755 Parker refill from Germany can meet various environments writing such as underwater. Except for the tactical pen series, the G series is also very suitable as a gift. The G series is a necklace-type EDC flashlight with a length of only 4.35cm and a diameter of 1.35cm. It is stress-free even for children, and it is easy to carry daily, or it can be put in a pocket or hung on a keychain for him during a walk at night.
Want to choose a flashlight in your home to deal with various special situations?
If you need to use a flashlight often, the L series will be the best choice. The L series has an ultra high performance, and the brightness and battery life are excellent, which can meet the needs of daily life.
If you need a flashlight to cope with unexpected situations such as power outages, the T series and A series will be better choices .The average high brightness of 3500LM can keep the home bright even in the dark night, and the ultra-long 340h standby time can be maintained for a longer period of time so that family members are not afraid of the darkness.
Want to choose a flashlight to carry with you everyday?
If you carry and often use a flashlight, we recommend the TO series and the E series. The length between 7cm to 12cm and the diameter between 2cm to 3cm will not take up much space when taking it out.The weight of the TO series is about 100g. The weight of the E series is about 50g. When you take it out, you won't feel tired due to being too heavy. A variety of brightness levels can also be used to meet different daily situations. Among them, E01, E10, E18, and E19 are AA or AAA batteries, which are easy to replace. The rest are rechargeable flashlights, of which battery can be used repeatedly.
If you carry your flashlight often to prevent unexpected situations, the compact and lightweight H series and TP series are more suitable .The maximum brightness of both is 130LM, which can meet daily emergency use. The G series is a necklace-type EDC flashlight, which is less than the size of your palm for carrying more convenient. TP is a tactical pen series, with a length of 15.4cm, a diameter of 1.38cm, and a weight of only 40g. The head of pen can be used for self-defense, the tactical pen can also be used for daily writing.
Want to choose a flashlight for outdoor use?
If you need to lead a team or want to choose a more professional flashlight, it is recommended to use T series. T series are professional tactical outdoor flashlights with ultra-high brightness of up to 12000LM and maximum 340h standby time. The head of pen and tactics switches and other designs make their use more convenient.TPX8 waterproof and 1 meter drop resistance can better deal with various unexpected situations such as underwater adventures.
If you need a flashlight to use when hunting, then the H8 will be the best choice. The H8 has an ultra-long range of 1,000 meters and an ultra-high brightness of 1800LM. The tactical ring and removable barrel make hunting more convenient. Outdoor and Tactical dual mode of H8 hunting special set can be matched with various hunting tools to make hunting more powerful.
If you need a flashlight for mountain climbing, fishing, and other small outdoor activities, the TO series is more suitable. The TO series batteries are high-capacity rechargeable lithium batteries with 125h-191h ultra-high endurance. Body size 12cm-13cm, weight 80 -130g, more moderate, more convenient to carry, it will not cause too much burden when outside activities. The maximum brightness is 1200LM, can meet mountain climbing, fishing and other outdoor activities.
Want to choose a flashlight for all types of testing?
eed a flashlight for jewelry identification? Need to detect the authenticity of banknotes or documents? Hygiene testing is required? Pet inspection? We highly recommend you to use P26 for various tests. P26 is a UV violet light plus white light dual-light flashlight, ultraviolet light source uses a 365nm UV lamp bead, the light emitted by it basically does not contain purple, which is suitable for various detection, and can also be used for nail painting, etc. P26 has two-button control, one-button switch of white light and purple light, the battery is three AAA batteries, and the battery life 6.5 hours, light weight, easy to carry. Besides detection, the highest brightness of 500LM can also be used for daily use.
If you like convenient and concise flashlights and use them infrequently, you can choose the common AA, AAA flashlight. Here we recommend P26, E01, E18, E19. The AA, AAA batteries are easy to use and buy, and generally the flashlight is small in size and easy to carry.
If you don't like disassembling the battery and want to recycle, it is recommended to use a direct-charge flashlight. A9, LT35 Pro, E05 and TO series use Micro-USB to charge; T series and A series use Type-C to charge in the state of no power, you can use the data cable to link the charger to charge and use. It is not necessary to buy batteries repeatedly, which is more environmentally friendly and convenient.
From flashlights to accessories, Wuben's products are constantly improving. While adhering to quality, we also strive to innovate and develop towards new outdoor fields such as vehicle lights, headlights, camp lights, and diving lights. We look forward to bring users more surprises and meet the higher requirements of users in the future.
Wuben, focus on the root.