Wuben Flashlight News
Experience the Power of True Colors - Wuben E19 High CRI LED Penlight Flashlight
Jul 19, 2023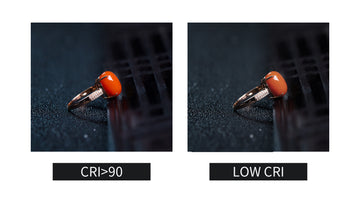 Whether outdoors or at home, we all
yearn to capture and reveal the world's true colors
. But, conventional flashlights often leave colors looking dull and distorted, causing us to miss out on the subtle and magnificent details. If you've ever experienced this disappointment, allow me to introduce you to the perfect solution that meets your demands: the
Wuben E19 flashlight with High Color Rendering Index (CRI)
.
CRI

 stands for 

Color Rendering Index

. It is a measure of how accurately a light source renders the colors of objects. The CRI is measured on a 

scale of 0 to 100

, with 100 being the highest possible score. A CRI of 

80 or higher is considered to be good

, while a CRI of 

90 or higher is considered to be excellent

......
Our Wuben E19(CRI>90) is an exquisite and compact penlight flashlight
designed specifically to cater to your discerning demands for authentic color rendition and unrivaled portability. Featuring
NICHIA 219C LED
and powered by
2 AAA batteries
, it delivers
200 lumens
of brilliance. The E19 captures the essence of true colors with its warm white light featuring a high CRI, offering a visual extravaganza for you to revel in. Whether you're a dedicated medical professional, an avid amateur photographer, or simply a connoisseur of superior lighting, the E19 is tailored to illuminate your world like never before.
Wuben E19 Features
True colors: The E19 features a high Color Rendering Index (CRI>90) that presents more authentic colors.
Super lightweight: The E19 weighs less than half an egg.
Replaceable batteries: The Wuben E19(powered by 2 AAA batteries) facilitates easy battery replacement, ensuring uninterrupted usage and convenience.
4 Modes + SOS: High/Med/Low/Eco/SOS
Built to endure: The E19 ensures reliability on any journey with its military-grade finish.
Easy to Operate and Carry: This LED pocket pen light utilizes a solid plastic tail switch, making it easier to push than a standard silica gel switch.


Wuben E19 Specifications
High
Med
Low
Eco
SOS
Output(lm)
200~40
50
10
2.5
20
Runtime
10mins~2.3Hours
13Hours
34Hours
80Hours
N/A
Beam distance
55 M
Beam intensity
770 cd
Impact resistance
1.5 M
Waterproof level
IP68(2m underwater for 1hours)
Weight
23g/0.81oz(without battery), about half an egg
48g/1.69oz(with battery), about an egg
Dimension (L × D)
140mm x 14.8mm | 5.51in x 0.58in (L x D)
Wuben E19 High CRI Penlight Limited-Time Offer
Exclusive to the United States! July 19th - August 8th (EDT)!
Product
Original Price
Discounted Price
Wuben E19 High CRI Penlight
$26.99
$9.9
Quantity
Time
Limitations
100 pieces
Starts at 7 AM
a: One piece per person;
b: For US users only 
Two Wuben E19 flashlights weigh about an egg
Join us on this captivating journey as we offer the Wuben E19 LED Penlight at an unbeatable price of just $9.9, making your dreams more attainable than ever! With only 100 units up for grabs, limited to one per customer, this exclusive deal is reserved for our customers in the United States. Act swiftly, as this special promotion runs from July 19th to August 8th (EDT). Don't miss out!
Hear from Our Enthusiastic Customers
"A great little pen light. Especially with the high CRI, causing colors to stand out more brilliantly. I bought eight to give to family and friends. They love them too!"
"Very nice. Nicer than my stream light styles pro!"
"The actual quality of this lights spectrum is off the charts I mean it is total very very natural looking at everything you look at the build quality is excellent ergonomically it fits in your hand like well an extension of your body I will buy another one."
"Great flashlight, I find myself using it often and live the aqua color , It's very bright and you can adjust the brightness 🔆"
Wuben L1 Dual Light Sources Flashlight 
Wuben L1(High CRI version) Coupon code: WB15 (15% off)

Wuben E19 has a CRI index of over 90
, which can satisfy your pursuit of true colors. However, if you want a more versatile flashlight, you may want to consider the Wuben L1. The
Wuben L1 is a dual-light flashlight with a main light and an auxiliary light
. Wuben L1 offers two versions, with one of them featuring the auxiliary light equipped with the
NICHIA 519A LED, boasting a CRI index of over 90
. This ensures a perfect display of true colors.
Auxiliary
Light
Mode
Output(lm)
Runtime
Beam distance
Beam intensity
NICHIA 519A

(CRI>90)

High
600~380 lm
30s~60Hours
102 M
2600 cd
Med
380 lm
6.5Hours
Low
25 lm
90Hours
Wuben X0 EDC Flashlight Specifications

| Specs | Wuben X0 EDC Flashlight |
| --- | --- |
| LED | Osram P9 (or NICHIA 519A) |
| Lumens | 1,100 Lumens |
| Beam intensity | 3,920 cd |
| Battery config. | Battery pack (1*18350) |
| Onboard charging | USB-C |
| Modes | 5 |
| Blinkies | Strobe / SOS |
| Reflector | TIR optics |
| Waterproof | IP68 |
| Weight | 82g |
| Size | 57 x 24.5 x 28 mm |
| Coupon code: WB15 | 15% OFF |
| Review publication date | July 2022 |
Wuben X1 Powerful Flashlight Specifications
Specs
Wuben X1 Powerful Flashlight
LED
3 x CREE XHP70.2 6000K LED
Lumens
12,000 Lumens
Beam intensity
23,000 cd
Battery config.
Battery pack (2*21700) 4800

mAh

Onboard charging
USB-C
Modes
5
Blinkies
Strobe / SOS
Waterproof
IP55
Weight
379g
Size
128.5 x 56 x 28 mm
Coupon code: WB15
15% OFF
Review publication date
October 2022
Our unwavering confidence in product quality is complemented by our outstanding after-sales services
15 days replacement: Within 15 days from the date of purchase, if the product has quality problems, customers can request free replacement.
1 year warranty: Within 1 year from the date of purchase, if the product has quality problems, WUBEN will offer free repair.
5 years warranty: Within 5 years from the date of purchase, if the product (accessories excluded) has quality problems, WUBEN will offer free repair for WUBEN registered customers.
Battery warranty: WUBEN offers a 1-year warranty for the rechargeable batteries but other included accessories are not covered by the warranty.
Embrace the brilliance of the WUBEN E19 during this exclusive promotion. With limited quantities on offer, illuminate your path with WUBEN's brilliance!