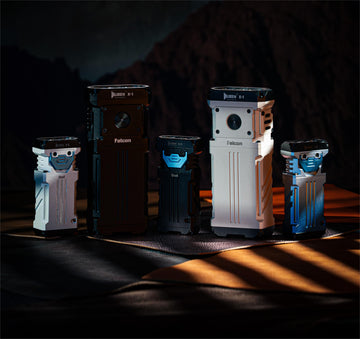 Origins
Established in 1981, our factory is authorized by numerous well-known brands as a flashlight manufacturer. Asim, the founder, who is crazy about outdoor activities, went hiking with his friends to Tibet, France, Dubai, America, and so on in 2015. During the adventure, as a professor of flashlights, he found out all his friends carried heavy and low-quality flashlights, which inspired him maybe he could invented a portable and easy-carry light since nobody has done it before. Then Wuben comes out, an innovator of the easy carry lights (ECL).
A New Outdoor Trend: My package is lighter than yours!
When we went out, I felt like we were always carrying a house on our backs. With the promotion of materials and technology, ultralight outdoors seems to be a new trend. To be honest, a lot of people join Wuben because they are obsessed with outdoor as well, ultralight outdoors has been something we all love and insist.
Nowadays people always like to show off the most is my package is lighter than yours when they go hiking, climbing, running, etc. But what people truly show off, actually, is they have a better experience. That is exactly what Wuben want to achieve eventually. We want to improve your adventure experience and make you feel comfortable even though you are in the middle of the mountain at night.
Who Are We?
We achieved the Guinness record for the brightest and largest flashlights. Meanwhile, we are one of the biggest flashlight manufacturers in China. Our factory covers an area of about 20,000 square meters. As a manufacturer, we sell about 250 thousand pcs of flashlights a month, and our annual revenue has already reached 100 million dollars.
Nevertheless, as a brand, we are still on the way. Now our ECL have been sold to 163 countries. Our sales growth not only steadily but rapidly. Hopefully all of you guys will stay with us and be important part of our journey.
New Journey, New Look!
We release a new series of Products, including X0, X1 and X2 since September 2022 and receives a lot of great reveiw. Now we officially named it "Lightok" and we make a new logo.
2023 is a brand new year. Wuben has significant upgrades from the general brand image, brand strategy, trademark, product X series ("Light Knight"), packaging, etc. Stay tuned.
But our quality, service, and original intention remain the same. Wuben will still adhere to the core idea of "customer first", and create each new product with "ingenuity". This year, we will also actively cooperate with other brands to integrate new vitality, and at the same time organize our fans' Offline activities Oh, let's enjoy the freedom of embracing nature together, free our hands, and let's go!
2 comments