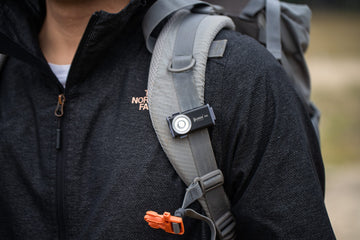 Multi-functional EDC Keychain Light
Our latest keychain flashlight is now on sale and it is proving to be popular!  Available in three colors, you will barely notice it on your keys with its dimensions of 58.5mm length, 27mm width and thickness of just 9.2mm!
How the G2 can be used
90 degree flashlights, like the G2 are excellent for reading in the dark as they can be held angled more comfortably to the map or book! If you prefer not to hold it, there are two other options - you can either magnetically mount it on any ferrous surface such as a coin or radiator or you can clip it to clothing such as a baseball visor or pocket!  
As the G2 has 5 output settings from 1 lumen right up to 500 lumens, it is excellent for both outdoor and indoor use, with its flood style beam.  It is also easier to operate and far more powerful than a phone flashlight as it has 46m throw!
Colors
Color is important, especially for smaller objects! This is because some colors help you locate the flashlight more easily for example, if it is at the bottom of a purse!  The G2 is available in metallic blue and green for this purpose and for aesthetics, but if you want a more subtle tone, you can also go for black!
Accessories
The G2 itself comes in a well packaged, sturdy and easily reusable clear plastic box, USB-C charging cable, instructions and two removable clips - one for clipping onto clothes and another which attaches the G2 to a keychain!  The box and accessories are well presented, making it an ideal gift!
Battery indicator
The G2 also features a blue and red LED battery indicator! Continuous blue means over 90% charge, flashing blue 40-90%, continuous red 15-40% and flashing red means charge of under 15%!  To maximise the battery life,  it is best practise to charge it when the red LED flashes.  Charging the G2 once a month , even when it is not used, also helps prolong the battery!
It's been suggested that you need to carry your lighting tools with you, but if you have the G2 Keychain Light, you can instantly illuminate your surroundings. Only sale $22.99 && Shop Now!
Parameters
The parameters for the G2 are below!
Standard

Turbo

High

Medium

Low

Moon

Output/lumens

500ʅ200

200

65

15

1

Runtime/min

30

35

90

180

4200 (70 hrs)

Throw distance: 46m

Intensity: 540 candela

Built-in 280mAh battery

Weight: 28g

Dimensions/mm: 58.5x27x9.2

LED: Osram P9
As you can see, despite its lightness in weight and compact size, it gives an impressive 500 lumens output, so how can you afford not to have at least one G2!
WUBEN G2 ultra thin keychain flashlight
1 comment