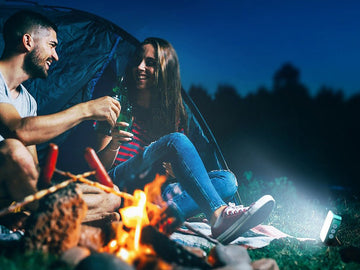 Camping provides a lot of benefits, both in body and mind, it allows you to unplug and get away from screens and connect with nature. For first-time campers, there are chances of forgetting useful tools or gear while preparing for your trip, therefore, it is important to plan everything ahead before you go on your trip. One of the things you must bring is a quality camping lantern or flashlight. First and foremost, a good lantern should be able to provide convenient and reliable illumination in or around your tent.
Buyer's Guide for the Best Camping Flashlights in 2022
Before getting a camping lantern, you need to first consider the intended purpose of the lighting. Are you going to use it to illuminate your tent? Or the other parts of your campsite? Create a relaxed atmosphere for campers? Though buying a flashlight is not like buying a car, it's still worth spending some time reviewing its specifications and functionalities.
What Are the Different Types Of Camping Lighting?
Camping Lantern
So what makes a camping lantern different from a general flashlight? The secret lies in its design. Camping lanterns are designed to illuminate a large area without the need to be held, they are standing up on a picnic table to light up an evening meal or card games.
Camping Flashlight
If you prefer hanging the flashlight on the tent, there are tons of choices out there. Camping flashlights tend to be smaller and lighter, same as camping lanterns, they also have waterproof housing and are great for outdoor activities.
What Are Important Factors You Should Consider?
Design
Camping lanterns or flashlights should be easy to carry around, ideally, with a handle or U-ring clip and strap, stability is the key if you plan to spend most of your time at the campsite. Some camping lanterns feature an integrated USB port to charge devices like your phone or tablet such as a power bank, you can choose the best one according to your preferences.
Light Beam
Another factor to consider when buying a camping flashlight is the light beam. A light beam is composed of small rays of light, a light beam is thus composed of a lot of small rays of light. The LED reflector of a flashlight catches the beams and converts them to the same direction. A larger and deeper reflector can catch more rays, a camping flashlight with a wider beam means it illuminates a larger area.
Battery Type
Camping flashlights are usually powered by rechargeable batteries as they are more eco-friendly. Flashlights powered by rechargeable batteries deliver a constant output. However, some people prefer having a flashlight powered by single-use batteries, it is a purely personal choice.
Lumens
The brightness level is measured with lumens, simply put, the higher lumen the flashlight has, the high the brightness level it has. Generally, camping flashlights with 2000 lumens are good enough, of course, they are models with a greater number of lumens, it all depends on your need. For example, if you going to share the light source with other campers, then you may need a camping flashlight with high power output.
Portability & Weight
The main difference between using a camping lantern and a camping flashlight is that the latter one is easier to carry around, for instance, you may need some light source to illuminate your path when you use the bathroom in the middle of the night, carrying a camping flashlight in this sense would be easier. While a camping lantern is good for placing on a picnic table, outdoor lovers tend to have both of them when going for a camping trip.
Resiliency
Accidents and unexpected events happen, having a waterproof flashlight helps you to stay prepared, that's almost 99% of the camping flashlights and camping lanterns on the market are waterproof. Keep in mind that some camping flashlights also feature some degree of impact resistance, so what is impact resistance? It is the degree to which a device resists damage from dropping on a solid surface, it is suggested to get a camping flashlight with impact resistance to ensure it remains fully functional due to an accidental drop.
Why Should You Buy Camping Lanterns?
There are many benefits of camping lanterns and camping flashlights, especially if you go camping in the middle of nowhere without basic lighting facilities.
Improve your visibility
Camping lanterns and camping flashlights are useful as they can light up the area and you are, preventing you from bumping into other campers. Campsites managed by the authorities or privately owned may have better facilities, but if you go camping at an unmanaged campsite, a camping flashlight or camping lantern is necessary.
Keeping Your Tent Protected
Camping is a quintessential summer activity, but it is not without risks. If you camping in the jungle, sufficient lighting can help you spot wild animals and stop them from approaching your tent.
Below are some of the quality camping lanterns and flashlights campers may consider:
High Brightness
If you are concerned about the brightness level more than placing a camping light on a table, you can always get a camping flashlight with a hook or clip to hang it up like a tent light.
Multifunction
Easy Carry