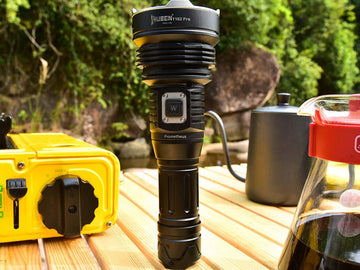 If you are a dog owner, I guess you have probably experienced walking with dogs in the dark and feel like a blind. Or, if you live in the top 5 U.S states for power outages, like Texas, Michigan, living in the dark is no stranger to you. Having a flashlight or headlamp can help you to see through the darkness in these scenarios, but the question is how much light do you need?
The answer is: It depends. 
First of all, we need to learn about lumens. Lumens are the light output measurement. Simply put, the higher the number of lumens, the brighter the flashlight will appear to be. The number of lumens should be the first thing you consider when purchasing a flashlight. With this concept in mind, you then need to consider where you are going to use the flashlight. Are you using it to light up a campsite? Or use it when a power outage happens?

Enjoy a 15% discount on all Wuben X series products, including X0, X1, X2, and X3.


Today, I will break down what number of lumens you should be looking at for a specific event or occasion.
Conclusion
Providing the right amount of light for a task can have a significant impact on efficiency, productivity, and safety. When purchasing a flashlight, it's important to understand your needs first and then consider how many lumens you need. That's said, the lumen is not the only factor that affects a flashlight's performance, you also need to consider the beam distance, runtime, etc. To learn more about flashlights and their applications, stay tuned with us.