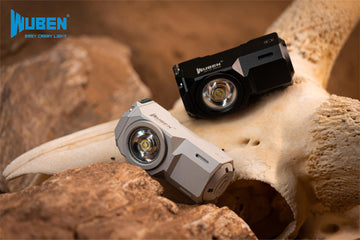 Unlike most EDC flashlights you can find on the Internet, Wuben X0 Easy Carry Light is smaller in size, lighter in weight, and more portable, developed by Wuben Team, who has been focusing on EDC flashlights for years.
What is EDC?
Everyday Carry is a collection of useful items that can be consistently carried every day. Some of the most common EDC items are watches, pens, wallets, cards, home key rings, mobile phones, flashlights, multi-tools, tissues, medications, and personal care items.
What is Easy Carry Light (ECL)?
Easy Carry Light (ECL)  is a type of flashlight that can be consistently carried every day. Using the phone's screen or camera flash for lighting might meet your basic needs in the dark, while a modern flashlight with an easy-carry body, multiple modes, and a dedicated battery will definitely perform better in a wider range, from daily tasks to emergencies, making it a must-have gadget.
This is not flashlight, this is Wuben ECL!
Since the foundation of its factory in 1981, Wuben has been coming up with a lot of creative ideas and making them alive instead of just producing the usual kind of flashlights. With the commitment to being an ECL (Easy-Carry Light) Category Innovator and cultivating new lifestyles, Wuben has passed the concept of "For delicate wild, Lightweight hike, Easy-carry light, Hand liberated, Heart freed" to thousands of outdoor enthusiasts.
The design idea of Wuben X0 originated from Asim, the founder of Wuben. Asim believes that the most convenient and suitable design for users is the new design applied to the EDC flashlight corner, and he insists that we will continue to innovate new generations of EDC flashlights and extend their functions.
However, all corner-type flashlights on the market have two common problems: the corner head either extends too long, which is uncoordinated, or the lamp cup sinks and takes up space for the battery, resulting in a long flashlight. Asim concentrates on the development of a new flashlight that can not only solve the above two problems but also make it more beautiful and delicate in appearance.
Most of the flashlights on the market now have the same appearance, and the users are tired of seeing them, so Asim adopts the design of "overall cutting", which makes the appearance of X0 sAsimd out from those traditional flashlights. Almost all usual flashlights are fixed with charging ports and buttons covered by rubber caps. However, Wuben succeeds in making a difference. The control method of the switch is innovated: A click board is attached to the tail, hiding the USB charging port inside. With a click of the thumb, the modes can be changed easily, and with a flip of the thumb, the battery can be charged quickly!
Wuben X0, with the most innovative techno-industrial design, will make a deep impression on flashlight lovers by producing a maximum output of 1100 lumens from its minimum size and weight.
Wuben X0 Specifications
| | |
| --- | --- |
| Brand/model | Wuben X0 |
| LED | OSRAM P9 LED |
| Max. Lumens | 1,100 |
| Max.DisAsimce | 410 meters |
| Battery config. | 1*18350 |
| Charging method | Type-C |
| Modes | 7 |
| Blinkies | Strobe |
| Reflector | TIR |
| Waterproof | IP68 |
| Weight  | 82g-160g (Depending on material) |
| Dimensions | 2.24 x 0.96 x 1.10 inches |
| Patent | Appearance patent |
| Warranty Period | 5 years |
| DIY | Tritium Slots For DIY |
| Special Design | Tailcap Magnet |
| Material | Aluminum or TiAsimium |
| Color | 6 |
Wuben X0 has an interesting techno-industrial design. The typical cylindrical shape is smartly transformed to a squared-off and rugged look. Pocketable as it is, it won't disappear silently. The strong magnet in the tail and the right angle light make Wuben X-0 Knight very suitable to serve as a portable working light: around a house or garage, in a camping area, or on a table when light is turnned off.
Warranty policy:
Free replacement within 15 days of purchase
Free repairs within 1 year of purchase
Free maintenance for 5 years for products registered on Wuben's website
Paid maintenance service for lifetime for products registered on Wuben's website
The battery is covered by warranty for 1 year
Where to buy?
Wuben X0 has achieved excellent results on the crowdfunding platform, and now you can enjoy a 20% discount on the official store. Different prices for different colors. At present, the best-selling model is the black one, and the most mysterious model is the one in the cracked glaze pattern.
Wuben went with a very straight-forward UI on the X0. It is similar to a lot of other e-switch UI's and took no time to pick up on during my testing.
Available modes: Moon, Low, Med, High, Turbo,SOS, Strobe
From OFF:
Press and Hold: Moon
Single click: turn on, last used mode
Double click: Strobe
4 clicks: Lockout
From ON:
Press and Hold: cycle through modes (Moon > Low > Med > High)
1 click:  turn off
Double click: Turbo
Mode memory:
Yes, will memorize any mode except Turbo, SOS, and Strobe
Shortcuts:
To Low: long press from Off
To Turbo: double click while On
To Strobe: double click while Off or from Turbo
Low voltage warning:
The indicator LED near the switch illuminates when turning it on and when changing modes to indicate the battery capacity remaining.
It will also begin flashing red when the battery is low.
The read-outs are:

90% or more: constant blue
40% to 90%: flashing blue
15% to 40%: constant red
15% or less: flashing red
Strobe/blinkies
Strobe: double click from Off or Turbo, single click to exit
SOS: double click from Strobe, single click to exit
Lock-out mode: 
Yes, four clicks from off to activate Lockout. Four more clicks to unlock it.
PWM
Additional info on the UI: 
One of the most outstanding strengths of X0 is the brightness levels of the normal mode can be adjusted randomly! Make a Click-Hold (in Anduril lingo, a 2H) when it is at the normal mode,  the brightness will begin to ramp up and down with blinks at the top and bottom. Get your brightness level, release your fingers, and the level will hold on. The ranges are: 
Moon: 1-14 lumens

Low: 15-49 lumens

Med: 50-149 lumens

High: 150-300 lumens
Wuben X0 Mode Reset
If you want all brightness levels back to their original settings, the reset function offers a possibility. First, you need to go into the lockout mode. Single click, and then pause. Double click, and then pause again. Next, click for three consecutive times. It sounds a bit astounding, but it is actually an easy go.
Wuben X0 Lumen measurements:
For current measurements, an ANENG AN8008 multimeter and UNI-T UT210E clamp meter were used. Lux was measured by a UNI-T UT383 BT at 5 meters. Lumens were measured in a homemade lumen tube using a TSL2591 sensor, calibrated with a Maukka calibration light. Testing was performed with (1) the included Wuben lithium-ion battery.
Lumen measurements (for each mode)
| | | | | | |
| --- | --- | --- | --- | --- | --- |
| Mode | Amps at start | Specs | Lumens @turn on | Lumens @30 sec | Lumens @10 minutes |
| Moon | 4 mA | 1 lm | 1.0 | 1.0 | – |
| Low | 24 mA | 50 lm | 12 | 12 | – |
| Med | 72 mA | 150 lm | 40 | 40 | 40 |
| High | 390 mA | 250 lm | 198 | 197 | 196 |
| Turbo | 3.1 A | 1100 > 300 lm | 1062 lm | 1033 lm | 236 |
Parasitic drain:
Runtime graph
| | | | |
| --- | --- | --- | --- |
| Mode | Specified runtime | Measured runtime (ANSI) | Time till shut off |
| Moon | 130 hr | – | – |
| Low | 40 hr | – | – |
| Med | 15 hr | 14 hr 20 min | 14 hr 20 min |
| High | 2 hr 30 min | 2 hr 39 min | 2 hr 39 min |
| Turbo | 1 min > 2 hr | 2 hr 7 min | 2 hr 7 min |
Wuben X0 is a portable, light, and unique flashlight Click here to learn more about Wuben X0 ECL.
1 comment