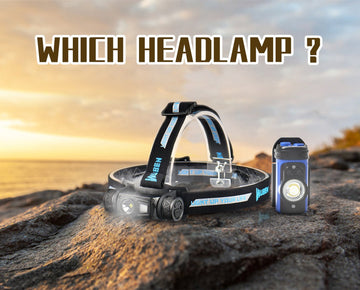 Posted: 25th Feb, 2021
Tags: headlamp, lightweight headlight reviews, product-overview, trending gear, headlamp for cycling, headlamp for running/jogging/fishing/reading/camping/hiking/climbing/boating/caving,
Why more and more people keep a headlamp?
Headlamps can be used for a variety of reasons and own a number of useful and practical applications. Especially useful and versatile for those engaged in outdoor recreations like camping, hiking, running, searching, as well as walking your dog, reading at night, fishing and caving. Imagine if you need to visit the bathroom in the middle of the night or to retrieve something that you left in the car. If you use a headlamp, you won't risk life and limb when mother-nature is calling. Not only that, but you can also liberate your hands by using a headlamp to read a few pages in a book, or look at a map to plan out your path for the next day's hiking before you fall asleep. Headlamps now are so compact and affordable. Here, we are going to recommend you two practical and efficient headlamps in reasonable price.
WUBEN H1
The first generation product of WUBEN headlamp series, produced and launched in 2020. H1 is a multifunctional rechargeable LED headlamp with multiple light sources. There are red light source and High CRI neutral white light source as auxiliary lights. Utilized 1pc OSRAM P9 LED, powered by 1pc 18650 rechargeable Li-ion battery of 2600mAh. The main light emits maximum 1200 lumens, which is powerful in distant lighting performance. All functions are operated by one switch, you can choose high or low beam as you wish. As LEDs and batteries get more efficient, torch-style lights are increasingly dominating even at the high-lumen end of the market, and the WUBEN H1 is one such beast. It's a compact headlamp design with a robust aluminum alloy housing, 3rd grade hard anodizing body and a single button.
Pros:
1200 lumens brightness provides a high power output.
100 degrees flood light and 180 degrees flexible adjustment up and down.
Headband can be tightly fixed to your head.
IP68 Dustproof and waterproof.
Cons:
102 grams. (while H3 weighs only 44 grams with battery)
Headband might not be suitable for kids.
Discounted Price: $29.99
WUBEN H3
The second generation of WUBEN headlamp series, which was launched in the beginning of 2021. Mainly aimed at the young and the kids, H3 is a lightweight, rotatable, and light-casting headlamp with two rotating shafts. With its lightweight and small body, you hardly even know a light is on your head. Two rotating shafts provide 180 and 360 degrees rotation to achieve the 360 degrees adjustment light source for various circumstances, equipped with a strong clip that can be tightly fixed to avoid shaking and sliding when running. You can use it as a headlamp, cap lamp, knapsack lamp, or whatever you like.
The main light of H3 emits a maximum output of 140 lumens with OSRAM P8 LED bulb; the auxiliary light uses a 2835 SMD LED and possesses red, blue and red flashing modes to meet different circumstances. This is a headlamp that combines lightweight, impact resistance and abrasion resistance into one to meet various circumstances. Especially suitable for family and kids when camping or other outdoor family recreations.
Pros:
Dual rotating shafts, 360 degrees fully adjustable light source.
Warning lights: Solid blue, solid red and red flickering.
Super lightweight, weighs only 44 grams with battery.
Cons:
Only 140 lumens max.
Headband only provides lateral stability.
Powered by AAA battery.
Discounted Price: $15.99
Do you keep a headlamp? What is your favorite headlamp flashlight ? Let me know in the comments below!