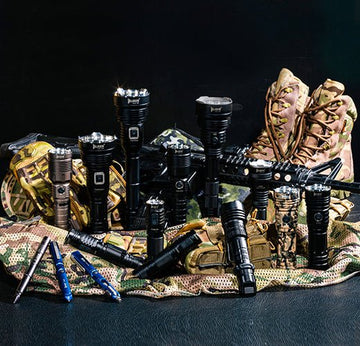 EDC Flashlights are often an underrated tool when it comes to camping, hiking, and just general outdoor use. As one of the most important elements of a basic survival kit, they might come in handy more often than you think.
While there are many different features to an EDC flashlight, most good flashlights will have some similar characteristics. Wuben enumerates the top 6 factors that come into selecting the best ECL (Easy Carry Light) for you. Read on!
Size & Weight
If you're going to buy an everyday carry flashlight, you probably want it to be something you can keep in your bag, pocket, or even on a keychain. The main thing is portability and easy access. Otherwise, what's the point?
If you aim for an EDC flashlight that fits comfortably in the palm of your hand, with buttons that are easily accessible, Wuben X0 will be an ideal choice!
However, bigger and heavier flashlights, usually, mean they are more durable and have sturdier material. Moreover, their battery is long-lasting and has more staying power than lighter units. 
For those who have bigger hands, slightly larger EDC flashlights like Wuben X1, and Wuben X2 will be right up your alley. 
Wuben X2
Light output
This is the intensity of the light that comes out of your flashlight, mainly at the highest setting and while running on fresh batteries. Measured in lumens, it will tell you how much light is emitted overall. The higher the number, the brighter the light will appear overall. 
So how much output will be good enough? 
For anything that's up close – within a few yards of your body, you probably only need a few hundred lumens. Options like Wuben E19, E61, and E62 are great for these purposes.
If you need to light up a bigger area or farther distance, you may want to consider an EDC flashlight with 1000 lumens or even brighter. Our top picks from this range include Wuben B2, L60, and C3, which boasts 1300-lumen outputs!
Many EDC lights have a large output range to cover a variety of uses, it's up to you to determine what the ideal range is for yourself. 
Battery Type
For the vast majority of users, a good-quality rechargeable battery is a must. Improvements in lithium-ion batteries are the reason modern EDC flashlights can be so bright. 
Wuben has not only dedicated to long battery life but also improved PD fast charging. After use, Wuben batteries can be recycled, which protects the environment.
No one should be throwing batteries away, right?
Run Time
An EDC flashlight's run time will also affect how useful it is. Normally, EDC flashlights with stronger batteries are bound to have a longer time, which also will be pricier.
Size can also affect running this. Bigger size, longer batteries. If you are looking for flashlights with extremely long battery life, Wuben T103 Pro might be something that you are satisfied with. 
Buld type
Incandescent bulbs are common, but they're a little dated, and they have their drawbacks. Today, the vast majority of flashlights nowadays use LED. Compared to incandescent bulbs, LEDs have no moving parts or filament, they're highly resistant to shock, and they draw a very low current, so they won't wear out your batteries. While a typical incandescent bulb might last seven or eight hours, an LED can last 100s to 1,000s of hours. 
Materials 
Some flashlights are made with plastic, or aluminum alloy. Compared with plastic materials, aluminum alloy, in a lot of cases, will be a better choice because it could ensure lightness and easy maintenance. 
However, Wuben EDC flashlights are made of aviation aluminum. It is also qualified for aircraft, which has higher standards for strength, hardness, toughness, fatigue resistance, and plasticity. We just want to make sure you have the best user experience. 
Anyway, whichever flashlight you get, make sure to purchase one that works for you and your family's needs. If you have any questions or concerns, you are more than welcome to consult Wuben Team. 
1 comment