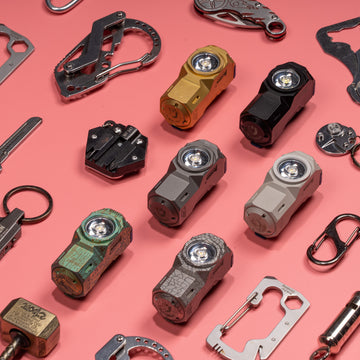 If you're looking for a reliable, lightweight flashlight for everyday use, then this Wuben X0 Aluminum Brightest EDC Pocket Flashlight is an excellent choice. Don't let the small and delicate size fool you - it's packed with power. Its 175° wide angle and max output of 1100 lumen, the X0 provides a bright and wide beam of light.Its 125m beam distance is impressive considering its tiny volume.
 The X0 features a sturdy clip and magnetic tailcap, allowing you to use it hands-free. This feature is particularly useful when you need both hands for a task, making the X0 a great tool for DIY projects or outdoor activities. Weighing in at just 82g and with a size of 2.24x0.96x1.10 inches, the Wuben X0 is the epitome of small and delicate. Its lightweight design makes it easy to carry in your pocket or bag, ensuring you always have a reliable light source when you need it.
 One of the most unique features of the X0 is its DIY-tritium slots. With eight slots available, you can customize the X0 by adding tritium vials of the colors your choice. This feature adds a personal touch to your flashlight and makes it stand out from the rest.
 The X0's innovative 3-in-1 button serves as a switch, stress relief, and provides optimal water and dust protection for its type-C USB charging port. Its type-C USB charging port is protected against dust and water with an innovative 3-in-1 button that is both a switch and a stress reliever. This button is a testament to Wuben's dedication to creating a high-quality, long-lasting flashlight. It has a replaceable Li-ion 18350 battery that takes about 1.5 hours to charge completely. Once fully charged, the X0 can last up to 130 hours. 
It's a budget-friendly option or a high-tech convenient flashlight with all the latest features. Get yours today while stocks last.