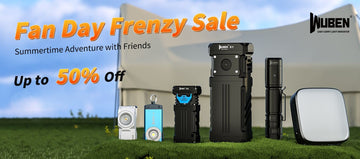 Hello, Wuben fans! Exciting news awaits you! The highly anticipated inaugural Wuben Fan Day.
"Fan Day Frenzy" is just around the corner, commencing on May 18, 2023, at 10:00 PM
. "Fan Day Frenzy" promises an exhilarating array of activities and exclusive offers. It's the first-ever fan day organized by Wuben Flashlight, dedicated to creating unforgettable moments of summertime adventures shared with friends.
🔥Wuben Fan Day Frenzy: Summertime Adventures with Friends🔥
During this fan day, Wuben has prepared a host of enticing discounts and special activities to express their gratitude for the unwavering support of their fans.
Firstly,
Add any product of Fan Day to your cart and get the G2 for $9.9
. And Wuben has curated a fantastic deal recommended especially for newcomers. The combination package of
Wuben X0 black, Wuben G2 black, and Wuben E62 blue
is available at a generous 30% discount. This set not only meets various illumination need the s but also allows you to acquire top-tier flashlights at an affordable price.
Excitingly, the Wuben Fan Day will also feature the pre-sale of the highly anticipated
Wuben L1 Flashlight
(Pre-sale, Attention: Estimated shipping in July)
, the latest masterpiece from Wuben. With unparalleled illumination capabilities, the L1 will revolutionize your lighting experience. Secure your spot as one of the first to experience this innovative product by pre-ordering now.
But that's not all! The Fan Day offers even more enticing promotions. The
Wuben X1 black and white
are both available at a substantial 25% discount, and combining the
Wuben X1 and Wuben G2
or
Wuben X1 and Wuben C3
allows you to enjoy an impressive 30 % discount. These offers enable you to acquire top-notch Wuben Flashlight products at an incredible value.
" Fan Day Frenzy" will run until Jun 1, 2023, at 11:59 AM
. Don't miss out on this rare opportunity to be a part of the first-ever fan day organized by Wuben Flashlight. The Memories and experiences you'll gain from this event will be cherished for years to come.
Mark your calendars and join us for the first-ever Wuben Fan Day! It's an opportunity for all Wuben Flashlight enthusiasts, both standing fans and newcomers, to connect, explore the outdoors, and enjoy incredible discounts and adventures this summer. Get ready to embark on an unforgettable journey with Wuben Flashlight and create everlasting memories.