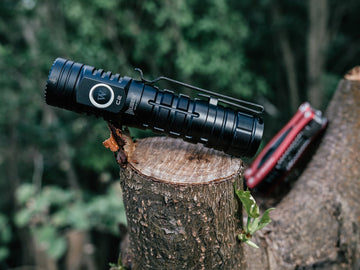 A reliable flashlight is an important part of everyone's EDC, especially you are a dog owner and need to walk dogs at night. Though the downside of most flashlights is that their batteries always seem to be dead just when you need a light source. Wuben C2 flashlight solves this problem as it is powered by a rechargeable 21700 battery, you can also buy an extra 18650 battery as Wuben C2 is also compatible with the model.
Wuben C2 is a small pocket-sized LED flashlight that features the signature 'W' switch, it's quite powerful regardless of its size, it delivers up to 2000 lumens and its longest beam throw is up to 358 meters.
With a 4800 mAh battery, C2 can be used as a power bank to charge your electronic devices such as smartphones, cameras, etc. I love to go for a long walk with my dogs in the evening, my old flashlight overheated after 20 minutes of       continuous use, it stopped me from walking too far. But Wuben C2 has a built-in intelligent circuit, it not only monitors the temperature of the flashlight but also allows C2 to emit a constant current.
Wuben C2 is slightly longer than 5 inches, with an anodized black housing, and weighs 6.7 oz, it is easy to carry around. C2 has an IP68 waterproof rating and features both USB and micro-USB charging ports, so I can use my Smartphone charging cable to juice it up. The rubber cap is another thoughtful design, it protects dust or dirt being trapped in the USB port.
I have more than one dog, so the strap is useful to me as it prevents me from dropping the flashlight, though C2 has passed the 1.5 m anti-drop test, I prefer to keep its shiny housing as neat as I can.
I would recommend C2 if you are looking for a powerful EDC flashlight, with a friendly price tag, making C2 better than its peer products.
5 comments